Favorite Israeli Fruit Trees: A Watercolor Resist Painting
In addition to the Seven Species we note during Tu B'shevat, Israel has many other kinds of fruit trees. Which is your favorite? This is your chance to choose and create a beautiful painting!
A watercolor resist painting is comprised of watercolor paints and either oil pastels or crayons. Because oil and water do not mix, the oil pastels and crayons literally resist the watercolor paints the results will amaze you! Enjoy this simple and relaxing technique to create a beautiful painting of your favorite fruit bearing trees from the beautiful land of Israel.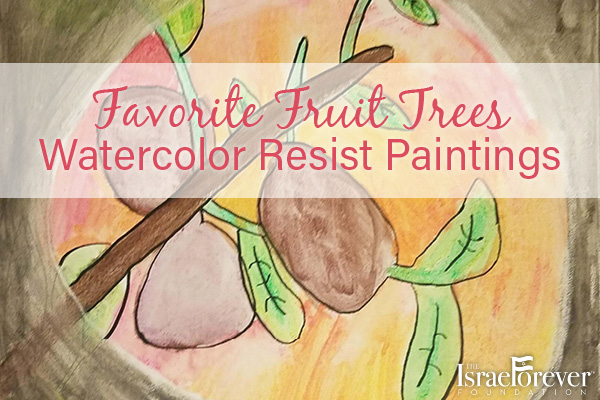 SUPPLIES NEEDED
---
Watercolor paper
Oil pastels or crayons
Watercolor paints
Pencils with erasers
Paper towels
Paintbrush
Water Bowl
Pictures of various Israeli fruit trees (optional)
Tablecloth to protect your table space (optional)
---
STEPS TO CREATE YOUR FAVORITE ISRAELI FRUIT TREES: A WATERCOLOR RESIST PAINTING
*If you don't have watercolor supplies, don't worry! You can create a simple drawing with markers, pens or pencils.
1. Look for pictures of Israeli fruit trees on the internet or photographs you might have from Israel.
2. Use a pencil to lightly sketch your image.
3. Once you are pleased, trace your pencil lines with oil pastel. (If you do not have oil pastels, you can use crayons, permanent markers or pen.)
4. Use your watercolor paints to add paint color wherever you did not add oil pastels or crayons. You will find that the oil pastels/crayons stayed the same and did not change to paint.
Tip: When watercolor painting, you control the value of the paint by how much water you use. If you use a lot of water, your paint will become very light and washed out. If you use a little bit of water the paint will be darker. The choice is yours, of course!
5. Once your trees are dried, it is time to focus on your background. You can use the oil pastels/crayons to draw things like butterflies, rainbows or clouds in your sky and whatever you would like along your ground (Ideas: a straight line of grass, hills, etc.) Get creative and have fun creating Israeli fruit trees!
6. Sign your painting when it is completely dried, with a permanent marker. Oh, and don't forget the date, or at least the year!
ENJOY!
CLICK HERE FOR YOUR DOWNLOADABLE PDF »
---
THE 7 SPECIES FRUIT & TREES AND EXAMPLES OF OTHER ISRAELI FRUIT TREES
---
Have your artwork featured in our online Israel in My Art gallery! Sign your artwork with your first name and last initial and email it to Stefie@IsraelForever.org

Painting as a part of a class or art group? Send us your selfies and group pics for a shoutout throughout our global Jewish community who loves sharing the Israel connection with their fellow Virtual Citizens of Israel around the world. Follow us social media and you can either post your pic online and tag us in your post or email it directly to Stefie@IsraelForever.org.

Help your students find unique ways you to incorporate the Israeli flag and the flag of the country in which you reside into your drawings as well, so that the world can see the vast number of nationalities of our IFF artists!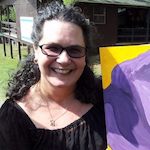 Stefanie Jo Heideman, founder of Art Escapades, is an art educator who believes that art is not supposed to be competitive, but rather a peaceful, relaxing experience for one to engage in and enjoy. As the Arts and Education Specialist for Israel Forever, Stefie is able to weave her love of Israel into her projects and lesson plans for individuals of all ages and stages of life.
---
Recommended for you:


---
ISRAEL IN MY ART: TU B'SHEVAT