Defiance in Face of Despair - Holocaust Reflection Program

For years it was said that the "Jews walked to their death like sheep to slaughter," but the diaries and memoirs of the victims and survivors prove that every day, they resisted the tyranny, fought for life, and struggled to keep their humanity, their dignity, their hope alive under the most severe conditions. Jewish resistance in the ghettos, camps and throughout the Holocaust is an integral part of the memory we inherit and must pass onward to the future.
This reflection program explores the myriad of ways that Jews responded to the extreme circumstances they faced during the Holocaust. Written and compiled by Holocaust scholar Dr. Elana Heideman, student and protege of Professor Elie Wiesel, the content is laid out as a ceremony, for those interested in running it with their school or community. It is also a wonderful resource for reading privately or with a small group.
DOWNLOAD RESOURCE
Reflection Questions:

What do you know about different types of resistence during the Holocaust? 
Why did organized physical resistance arouse fears among the Jewish community and its leaders? 
How did spiritual resistance help Jews living under the severe reality of the ghettos, camps and even in hiding?
What kind of mental strength could a person gain through unique forms of resistance - such as writing poetry, drawing, music and other artistic expression? 
What other acts might have helped someone face the effects of momentary survival?
How was resistance during the Holocaust unique? 
How does an awareness of the different types of defiance help you understand the Holocaust better? 
Our memorial programs are uniquely designed to ensure a powerful and meaningful experience for everyone. They are fitting for all ages and can be altered to suit the needs of any audience or time frame. They also make for wonderful private reading for Yom HaShoah or any Holocaust memorial learning opportunity. Some selections can also be shared through artistic representation.
HOW TO UTILIZE THIS PROGRAM:
Narrow down selections based on your desired program length
Assign readings. During the ceremony, the MC should call up each reader by name. 
Prepare table and candles 
Ensure set up of audio/visual logistics for sharing of the accompanying presentation that runs simultaneous as a background to the ceremony
For more ideas or information on how you can personalize the memorial for your community, please contact us at info@israelforever.org
Your feedback matters as we aim to provide the best resources possible for your experiential and reflective learning experience. Please let us know if you use our program, and consider taking a minute to fill out our evaluation form.
---
What will become of the memories?

About the Author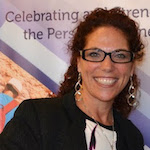 Dr. Elana Yael Heideman, Executive Director of The Israel Forever Foundation, is a dynamic and passionate educator who works creatively and collaboratively in developing content and programming to deepen and activate the personal connection to Israel for Diaspora Jews. Elana's extensive experience in public speaking, educational consulting and analytic research and writing has served to advance her vision of Israel-inspired Jewish identity that incorporates the relevance of the Holocaust, Antisemitism and Zionism to contemporary issues faced throughout the Jewish world in a continuous effort to facilitate dialogue and build bridges between the past, present and future.