Final Steps, Last Hopes: Untold Stories of the Nazi Death Marches

Every year, communities gather to recount the experiences of suffering, the moments of hope, and the memories of victims and survivors of the Nazi Holocaust. Every year, we face new challenges, we uncover more stories, we learn new facts that shed light on this dark chapter of human history that we, the heirs of memory, must pass on.
From the Nuremburg Laws to the ghettos, from the cattle cars to the gas chambers, there is no end to the horrors of the Holocaust. The Death Marches are one facet whose reality is too often left untold.
This reflection program explores the treacherous experiences of the winter marches from the Nazi camps in Poland to those in Germany in an effort to eliminate the last witnesses to the reign of terror that aimed to exterminate Europe's Jews. Written and compiled by Holocaust scholar Dr. Elana Heideman, student and protege of Professor Elie Wiesel, the content is laid out as a ceremony, for those interested in running it with their school or community. It is also a wonderful resource for reading privately or with a small group.
HOW TO UTILIZE THIS PROGRAM:
Narrow down selections based on your desired program length
Assign readings. During the ceremony, the MC should call up each reader by name. 
Prepare table and candles 
Ensure set up of audio/visual logistics for sharing of the accompanying presentation that runs simultaneous as a background to the ceremony
DOWNLOAD RESOURCE
For more ideas or information on how you can personalize the memorial for your community, please contact us at info@israelforever.org
Your feedback matters as we aim to provide the best resources possible for your experiential and reflective learning experience. Please let us know if you use our program, and consider taking a minute to fill out our evaluation form.
---
Recommended for you:
---
What will become of the memories?

About the Author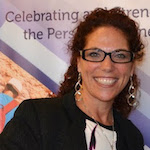 Dr. Elana Yael Heideman, Executive Director of The Israel Forever Foundation, is a dynamic and passionate educator who works creatively and collaboratively in developing content and programming to deepen and activate the personal connection to Israel for Diaspora Jews. Elana's extensive experience in public speaking, educational consulting and analytic research and writing has served to advance her vision of Israel-inspired Jewish identity that incorporates the relevance of the Holocaust, Antisemitism and Zionism to contemporary issues faced throughout the Jewish world in a continuous effort to facilitate dialogue and build bridges between the past, present and future.