As we reflect on the horrific loss of life in Southern Israel, our hearts go out to the bereaved families, the hostages and their families, the wounded and all who are impacted by this crisis. Many have asked, what can I do? 
Israel Forever prides itself in shaping positive Jewish identities. Now more than ever, our content and programs are essential in fostering Jewish pride, sharing factual information, and cultivating communal activism. 
We also respond to this crisis with a powerful statement: for everyone to declare their pride and commitment as Virtual Citizens of Israel (VCI). 
We encourage you, your communities and your organizations to join this original effort of building the unity we want to see. 
Let our respond to those who seek to destroy us be a bolstering of our collective efforts and our global connection that will continue to create community and a sense of belonging for our people when we need it the most. 
This initiative will strengthen our solidarity with Israelis fighting on the front lines, and all who are carrying out the holy work of protecting Jewish life globally. 
Please share this opportunity with your friends, colleagues and community. We would be happy to discuss with you special group packages, so that a critical mass of people can join this timely initiative.
Friends, now is the time for Unity. 
Now is the time for solidarity. 
For it does not matter where we live, this threat and tragedy effects us all. 

We thank you for your partnership, and wish all the people of Israel peace.  


BE RECOGNIZED FOR YOUR CONNECTION, YOUR COMMITMENT TO ISRAEL AND OUR DEMOCRATIC FREE JEWISH STATE! BE A PART OF THE UNITY WE WANT TO SEE IN THE WORLD!
DECLARE YOUR PRIDE AND JOIN TODAY!

---
---



Interested in creating a VCI community for your organization or network?
In the spirit of Jewish unity, we believe that the more we work together, collaborate, pool resources and energy, the more of an impact we can have to help every Jew in the world feel connected with Israel and with each other.

CONTACT US if you would like to build a recognized VCI community of your own!


---
---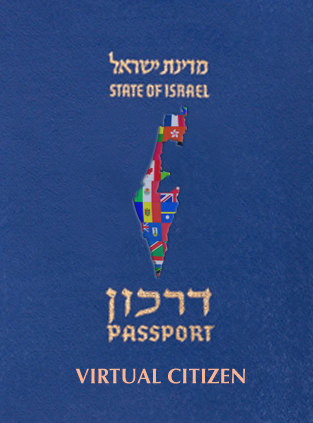 Israeli Citizens can be Virtual Citizens, too!!!
Citizens of Israel are invited to join the VCI global community and join with others around the world in celebrating and strengthening their identity, knowledge and empowerment as the Nation of Israel. 

Together, we can truly build a global Jewish community that unites Diaspora and Israeli Jews in real, dynamic, and meaningful engagement!
Friends of Israel are of course welcome as Virtual Citizens of Israel, regardless of faith or ethnicity, for all those who support and stand for Jewish rights, freedom, and self-determination in our ancestral and biblical homeland.
Please note: A Virtual Citizen of Israel™ is not recognized by the Israeli government as a form of Aliyah. It does not allot any physical or material benefits from or related to the State of Israel. There are no tax benefits nor can a VCI vote in the Israeli elections.