My IDF Vacation with Sar-el
By Ruth Mastron
Close your eyes for a moment and imagine your dream vacation. . . Are you lying on a golden beach under a palm tree, listening to the gentle lapping of the waves? Are you enjoying gourmet food and wine in an elegant restaurant? Are you skiing down a mountain on sparkling new snow, looking forward to sipping hot toddies by the fire in your cozy chalet?

Or are you getting up at 6 am after a night spent on a 2-cm-thick foam-rubber pad, wearing stained and ill-fitting army fatigues, eating army grub in the chow hall and working all day packing supplies in a cold, dusty warehouse?
Everyone has their dream vacation, and most do not include hands-on work and getting down and dirty as a volunteer. Joining the Israeli army through Sar-el, one cannot help but feel that somehow, in some small way, we are making a difference.
Sar-el is the National Project for Volunteers for Israel using the Hebrew acronym for "Service to Israel". Founded in 1982 by the late Dr. Aharon Davidi (z"l ), former head of the IDF Paratroopers and Infantry Corps, the organization's original mission was to bring volunteers to Israel during the Galilee War to save crops in the Golan Heights, when farmers were called up for active duty. The project has since evolved and now brings between 4000 to 5000 volunteers from over 30 countries to IDF bases to perform tasks that are essential on any military base.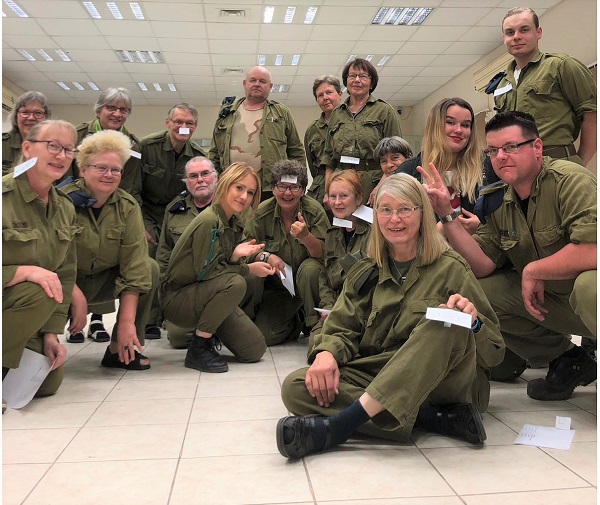 As one volunteer puts it, the jobs given to volunteers fall under the category of "any boob can do!" From packing, cleaning, painting, maintenance, inventory and other vital logistics, these are jobs which would normally be done by reservists who, instead, can spend their time doing what they've been trained to do and make sure the IDF always stands ready to meet any challenge.

In return, volunteers get a behind-the-scenes, off-the-beaten track Israel experience and the chance to support Israel in a unique way. Beyond the actual work contribution, perhaps the most important thing volunteers do is to show Israelis they're not alone.
"I was on kitchen duty with another volunteer, a tiny lady from Canada who looked like a storybook drawing of everyone's favorite grandma. An 18-year-old soldier swaggered in—Mr. 'I Speak English, I Know Everything'. He grabbed a cup of coffee and came over to ask how much the government paid us to come work on the base. We told him we're volunteers, and we paid our own way to come to Israel.

While that was sinking in, that little Canadian grandma got up in the kid's face (she barely came up to his chest) and said, 'You wanna know the best part? Back home in Canada, I have a cleaning lady to do this! I don't mop my own floors. I pay my own way to come to Israel to mop YOUR floors!' That macho kid put down his coffee, got tears in his eyes and said, 'Thank you, thank you. We love you. You're crazy, but we love you!'"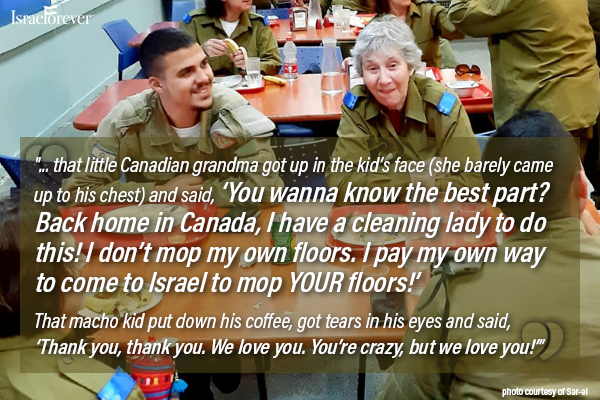 In the incredible multicultural society that is Israel, you don't even need to speak Hebrew. Volunteers come from around the world, with the largest numbers coming from the US and France. Groups are organized by language and each group is assigned madrichot (guides), young Israelis who are chosen for their language skills and trained to handle questions, resolve problems, make sure the internationals are able to navigate Israel and the IDF experience as effectively as possible.
The dynamic between the staff and volunteers, as well as with the soldiers on the bases they are assigned, has proven to be a meaningful expression of the ways we can overcome our cultural, linguistic and even political differences by joining together for this common cause. There have even been studies conducted that have shown that morale and discipline on bases that get volunteers increase dramatically.
With the age range of participants spanning 16 (with parent or guardian) to over 90, as long as a doctor certifies the person is fit to do the program, the intergenerational element of Sar-el is yet another amazing element of the experience.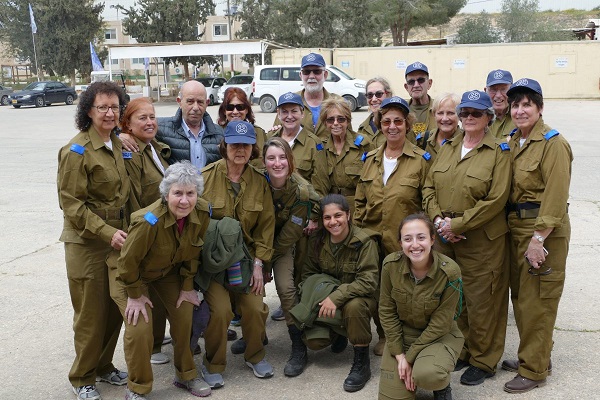 "Why was I, a former ballet dancer and mother of two grown-up children, so keen on a stint in the Israeli army? I suppose it was a reaction against the political correctness that means you can no longer mention the word Israel, let alone the IDF, without receiving dirty looks or embarrassed silences. I had had enough of that and wanted to show it in the most dramatic way I could. The phrase "volunteering in the IDF" makes it sound rather glamorous.

Working alongside paratroopers on secret assignments, it wasn't. We were warned to think "army life and army conditions", and so it proved… But I remember it struck me hard when one young man said: "Here in Israel we are either at war or preparing for the next one." I was only a volunteer, helping out for a short stint, and felt humbled by the commitment of these young people." - Claire Symonds
Conditions on army bases are Spartan: think of the most underfunded, infrequently-maintained summer camp you've ever been to. Army food is simple and a little repetitive but always healthy and abundant. Workshops seem chaotic, but somehow things always seem to work out and the supplies get checked, fixed, set aside for repair or disposal, counted, cleaned, packed and sent out again. But you get a taste of real-life Israel, something that every sabra of our people and citizen of our state endure in their bonding experience.
As is often an expression of appreciation for soldiers around the country, the citizens show their love for Sar-el participants by offering discounts and creative demonstrations of kindness. One volunteer stopped to get a falafel in Tiberias over the weekend and the vendor asked what she was doing in Israel. When she explained about Sar-el, the vendor refused to take a single shekel and even threw in a free soda - and a hug! The power of the experience has so many dimensions.
As a repeat Sar-el volunteer, I've had many memorable experiences both on and off base. Here are just a few of my favorites:
One of our volunteers was a man in his mid-40s. While chatting over dinner one night, he mentioned he really regretted never having a Bar Mitzvah. Volunteers and madrichot put their heads together and pulled a few strings, and the next thing we knew, the base synagogue was hosting its first Bar Mitzvah! We helped the Bar Mitzvah boy practice the brachot for his Aliyah, and since his father wasn't there for the Baruch Sheptarani, all his fellow volunteers said it instead.

The elderly ladies who come to volunteer from nearby neighborhoods outdid themselves in baking cakes and cookies, and the madrichot managed to bring in sodas and other goodies. The base commander himself presented the Bar Mitzvah certificate, and the small synagogue was standing room only as soldiers, civilian workers and volunteers sang and danced together in celebration. The IDF newspaper even sent a reporter to cover the event!
My hairdresser LOVES hearing my Sar-el stories and hopes to volunteer herself one day. When I told her I'd be heading to Israel to volunteer in about six months, she quietly contacted all the other stylists and vendors and put together a big box of beauty products for the IDF girls. I made a sign in Hebrew that said, "With love from California!" and set up the box outside the mess hall. The girls got crazy excited as only teenage girls can do, and grabbed volunteers to ask, "You can read English, is this shampoo or conditioner?"
We were working with some of the disabled kids from the amazing Special in Uniform program. Our task was to count out ten latex gloves, which we then packed in plastic bags to be put into medical kits. Each Sar-elnik was matched with a Special in Uniform kid, and we got to work, counting slowly in Hebrew: "Ah'at, shtayim, shalosh, arba. . ." As I was working with Hodaya, I took a moment to look around the table and saw our volunteers patiently smiling, counting, and encouraging their partners. The kids were intent on their task, even if they forgot the numbers every time and had to start over. There may be more efficient ways to accomplish this, but there are certainly no kinder or more inclusive ones.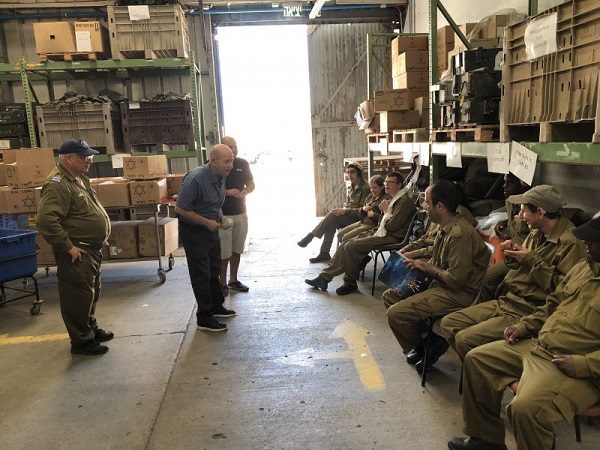 One weekend leave found me sitting in a café with a girlfriend. We were approached by a group of cheerful, boisterous teenagers wearing crazy colored ribbons around their heads. In excellent English, they explained they were taking part in a pre-army program and were on a team-building exercise in Jaffa. Each team had been given a paper clip and told to trade it for something, and to continue trading for bigger and better items until the finish time, with a prize for the best results.

They had made a few trades and were up to a battered hat when they found us, so we started digging in our bags. "How about a Tide Stain Stick?" I offered. Yes, that was great! I handed it to the leader, then asked them if they knew what Sar-el was (showing my t-shirt). They didn't, so I said, "OK, give that back until I tell you about Sar-el!" When I was done, I returned the stick and was rewarded with the hat, thanks and hugs.
These experiences have been a huge part of my life, and continue to inspire me in my work advocating for Israel. The people I have met have become friends and colleagues, no matter where we all may live. I am one of many who have benefited from this incredible opportunity to give to our Jewish people and our only State of Israel.
For me, this is a powerful expression of what it means to be a Virtual Citizen of Israel - a badge I carry with honor in everything I do in life. I'll leave you with my suggestions for success that I learned from my Sar-el experience and look forward to meeting you on base soon!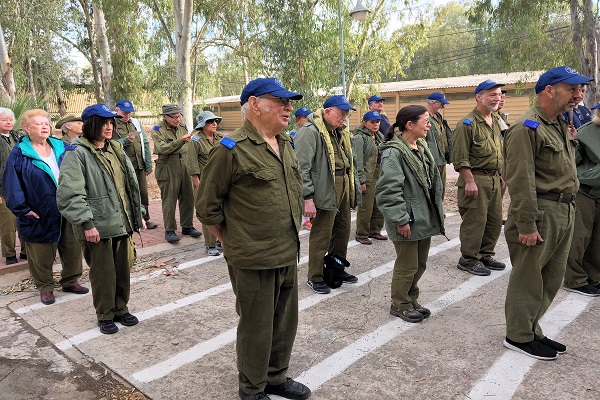 10 Secrets of Success - for Sar-El and for Life!

Be where you're supposed to be, when you're supposed to be there.
Make sure to follow instructions carefully.
Smile. A lot.
Talk to people. Find a common ground. Ask them questions. Answer their questions.
Never let anyone else's crappy mood affect your terrific one.
Remember the story (which may be apocryphal) of the janitor at NASA, who was asked what his job was. His response: "I'm helping to put a man on the moon." Remember that what you're doing, no matter how small, can make a big difference.
Make it work! Never whine, never complain, never turn around and walk away from a problem. Figure it out, improvise and MAKE IT WORK. Successful people SOLVE problems, they don't CAUSE them.
The unofficial official phrase of Israel is "Yihiyeh b'seder." – "It'll be OK." Lather, rinse, repeat.
Learn to love a balagan. When things go wrong, just remember that—assuming you live through it—it will make for a great story.
Enjoy every insane, inspiring, confusing, life-changing, frustrating, breathtaking minute that your experience offers!
INTERESTED IN LEARNING MORE ABOUT SAR-EL? Programs are available year-round, and special-interest programs are offered as well. During the summer, the Young Adult program for ages 17-25 offers a life-changing adventure that can be an extension to Taglit-Birthright, or a customized Hillel program. Adults can go solo, or in a group of family, friends, synagogue or other organizations. New options have been recently introduced with Volunteers For Israel Plus, including an archaeology program that combines volunteering on a base with working on an excavation near Haifa.
---
Recommended for you:
---
How did Sar-el help YOU express your commitment as a Virtual Citizen of Israel? Share your most meaningful memory!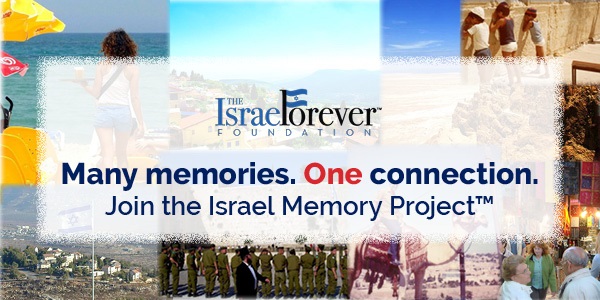 About the Author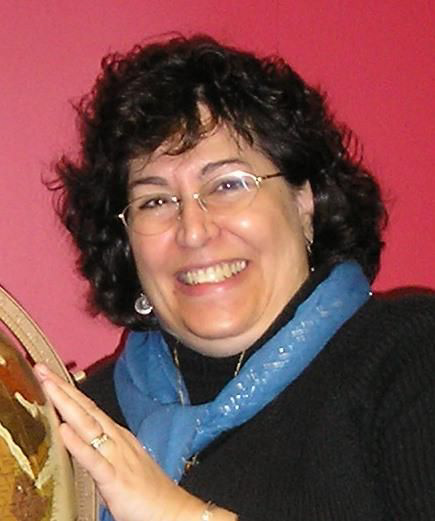 A passionate Zionist, Ruth is a Hadassah Life Member, President of the House of Israel in San Diego's Balboa Park, and a regular volunteer on IDF bases through the Sar-el program. Ruth works with teams, families and individuals to inspire Israel and increase awareness and activism. Ruth lives in Oceanside, California, with a French husband and a bilingual cat.