The Pioneer Spirit of Israel
By Susan Eisenstein
When I was five years old, I remember playing piano from a small soft covered music book. I remember it was a blue book. It had large notes, easy for a child to read. I loved that book because it had popular songs of the halutzim, the early pioneers of Israel who physically built the state of Israel. In fact, Israel was only 2 years old at the time.
To think that there were people in Israel building the modern state, draining malaria-ridden swamps, defending themselves, farming (something unfamiliar to most of them), to think that there even was an Israel, a Jewish state, was incredibly inspiring and meaningful to me, even then. I grew up knowing about our Jewish history and knew that without Israel, we could never be safe, never really have a home where we could be fully Jewish, and that this once dream of Herzl's and other Zionists, was our dor v'dor hope. Zum Gali Gali became my favorite song. What must it have been like for the early pioneers?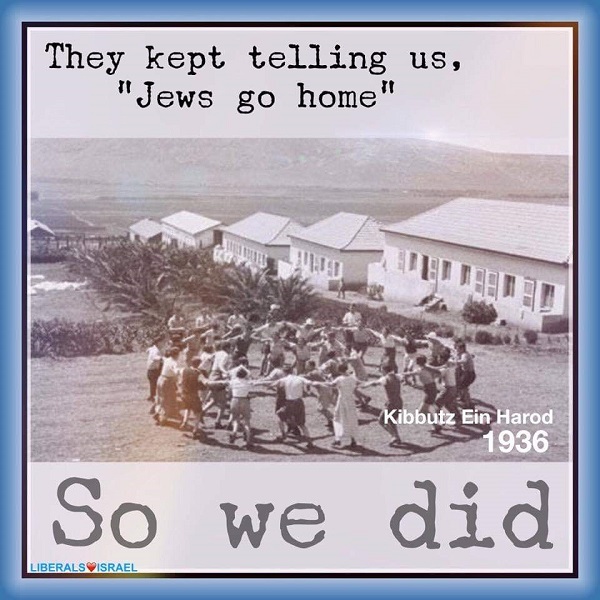 The first Jews who made the modern return to Zion came there as early as 1878 to found a village which they named Petach Tikvah. In the early 1800's, the First Aliyah (1882-1903) began. It brought the first wave of Jews to Palestine in response to Zionism. These Jews committed their lives to turning the dream of a return to Zion into a reality. In all of our years in exile in the Diaspora, we never forgot our ancestral home, our heritage, the land where our nation was born, and which the Torah promised to us. In that respect, we are all Israelis, all from the Middle East where we began.
Many Zionists believed that creating a modern Jewish culture in our historic homeland was essential, among them writers such as Asher Ginsberg, pen name Ahad Ha'am ("one of the people"), and arriving in Jerusalem in 1882, Eliezer Perelman, changing his name to Eliezer Ben-Yehuda, who revived Hebrew as a spoken language. His oldest son, Ben-Tziyon, ("son of Zion") is said to have been the first Hebrew-speaking child in modern history.
1905-1914 is known as the Second Aliyah, mainly immigrants from Russia. In 1909 Jewish settlers began construction of the city that was to become Tel Aviv. Now the world began to see a new kind of Jew. Not the Jew who was physically unfit, could only read and learn and could not defend themselves or sustain themselves, but a strong, proud, fit Jew, ready to defend their homeland.
These pioneers were committed to socialist ideals. They dreamed of building up Eretz Yisrael with their own hands. David Gordon believed that Diaspora Jews were weak because they were disconnected from the soil. Manual labor would strengthen the Jews and also allow them to rebuild their culture. The new Jews of this Second Aliyah would disprove the antisemitic stereotypes of weakness.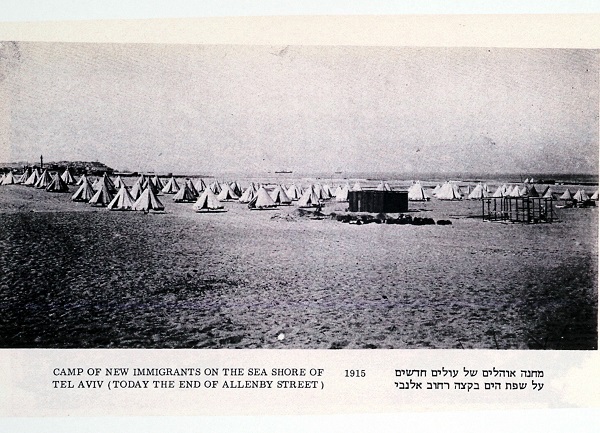 Many of the future leaders of Israel arrived in Israel during this time, such as David Ben Gurion and Yitzhak Ben-Tzvi. And there was also Rachel Bluwstein, who came to Palestine from Russia in 1909. She was a gifted poet, but worked the land in a new settlement near the Sea of Galilee. Before coming to Palestine, she did not know a word of Hebrew, but she was to become one of the first modern Hebrew poets.
Many of her poems have been set to music and are still sung in Israel today. Even though life in Eretz Yisrael was extremely harsh, food and necessities scarce, health conditions risky, and approximately fifteen thousand immigrants who arrived during this period left Palestine disillusioned, in just a few decades, Zionists established over forty agricultural colonies and villages in Israel, the Jewish population of Palestine grew, and Hebrew was reborn as a language for daily life.
In her book, "My Life" Golda Meir writes of when she was a young girl traveling to Israel to make her home there. "We had never met 'real' pioneers of our own age before, and we were very impressed by them." She further describes what a friend of hers and her sister wrote to her sister's husband. "Real Hercules," he wrote, "who are ready to build a land on just foundations on their backs. And not only a land but a new language...splendid human material which would be the pride of any people."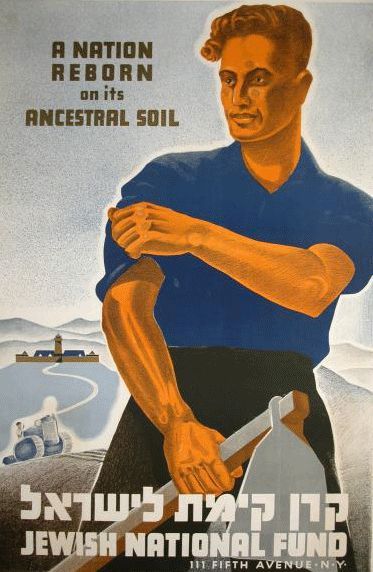 Early Zionist posters of these times give us insight into the atmosphere and spirit of pre-state Israel and the early years of independence. They show the ideals on which the Zionist movement was founded and its challenges, and its remarkable achievements. The depict strong, vibrant young men and women carrying shovels to work the land, men carrying weapons to defend the land, and pictures of The Jewish Legion and of Herzl. Again---a new Jew.
Today, Israel also has a new kind of Jew, young, idealistic pioneers, making their homes in Israel's geographic frontiers. They are making the Negev and the Upper Eastern Galilee thrive and become destinations for technology, community growth, and innovation.They are building Israel with 21st century tools, making an impact by bringing education, arts and culture, and employment opportunities to Israel's frontiers. The young Israeli pioneers of today are an example of yesterday inspiring tomorrow.
The new pioneers of our homeland have a shared mission of building the country through innovation. Engaged in community building, through education, employment, and cultural projects, these socially conscious pioneers are seeking to improve Israeli society. In Arad, an eight acre park opening to a natural landscape of cliffs, a music conservatory, a skate park, and housing expansion.
In Be'er Sheva, a river park and lake, an amphitheater (Israel's largest), an employment center, and the renovated Abraham's Well so that visitors can enjoy a multimedia-filled courtyard. Ancient drawings evoke the Be'er Sheva of more than 3,000 years ago, and an education and technology center will make Be'er Sheva a Zionist education hub. In the North, in Kiryat Shmona, a state-of-the-art medical center, a food technology campus, The Galilee Culinary Institute at Kibbutz Gonen, and housing expansion.
Empowering, revitalizing, towns and villages in the Negev and the Galil, the legacy of Israel's early pioneers is alive and well and robust today. We are eternal, we are connected through history and through our commitment to a strong, independent Israel today, a place where we can be really free and be what we are---actualizers of a powerful future.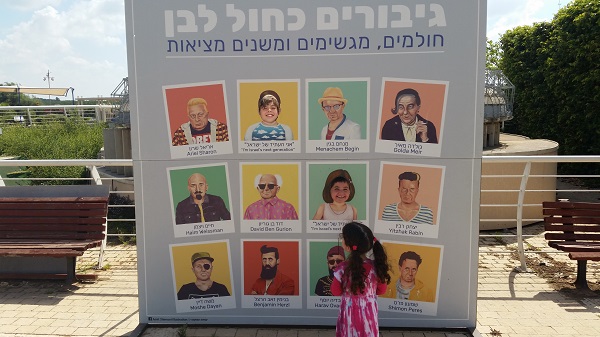 ---
Recommended for you:
---
STAY CONNECTED NO MATTER WHERE YOU LIVE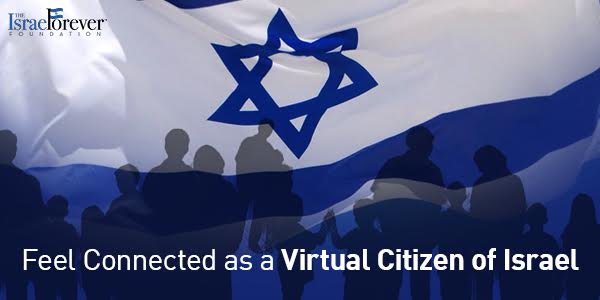 About the Author
Susan Eisenstein is a long time Jewish educator, passionate about creating special innovative activities for her students. A Bonim B'yachad Teaching Fellow, JNF Ambassador and a graduate of the Melton School for Jewish Studies, Susan has two Master's degrees and a Doctorate in Education from Columbia University. In addition to her involvement with Israel Forever and Stand With Us, Susan is a mentor to adult students for Project Inspire and Aish Academy and is a published author in professional journals for music and music therapy. Her passion is in Judaic studies and the Hebrew language and involving every student in a meaningful adventure of learning: "Israel is my heart and soul and my dream is to help Israel and Israelis in any way that I can."