Tu B'Shevat through the Generations
By Margo R.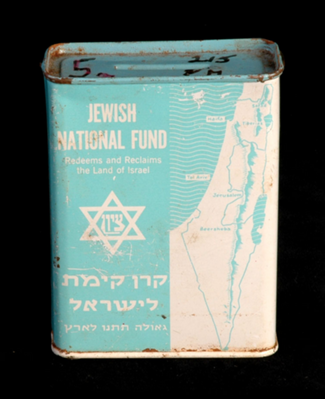 My memories of Tu' B'Shevat span decades.
As I recall, before leaving home for Hebrew School, not only did I have my usual keren ami money (money we proudly deposited in the light blue charity boxes in each classroom), but I had additional money that was for purchasing a tree to be planted in Israel.

We were told that trees were of crucial importance for reclaiming the arid, nearly unusable land and moreover, that it was centrally related to the holiday of Tu B'Shevat, the new year of the trees.
So for a month before the holiday, I brought in two contributions – one for charity and one for the trees. I think it cost $2 to plant a tree, $2 that I would work all week babysitting to make.

To mark the progress towards purchasing our very own tree for the State of Israel, we had a chart with our names on it featuring the outline of a tree. For every quarter value contribution, we received a paper leaf, a postage stamp in size, and we'd lick the back of the leaf stamp, and proudly add it to our chart.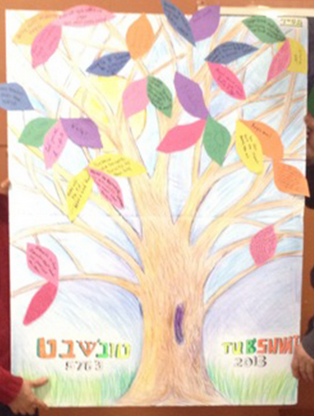 Week after week, we filled in each tree with leaves. I loved watching the progress, coloring in the leaves with my crayons, and then pasting the tree pictures to the windows, imagining the real trees I would help to plant in land far away, the Land of Israel.
Since those formative years, two of my four siblings made aliyah, and our Israeli family has grown exponentially, as has my connection.

My brothers, nieces and nephews have all exposed me to new amazing aspects of Israel – whether it's caves, deserts or craters; mystics, the 15th generation rabbi, or the mikveh tradition, or hanging out with Rashi's descendant; partying with gay pride week celebrants, making a fire on Lag B'omer, or choking on sobs of pain during the siren on Yom Hazikron. Sometimes the best is just hanging out for a casual meal at Center One in Jerusalem, or bowling in Talpiot.
Israel and it's multifaceted nature never ceases to amaze me and with each subsequent trip, I feel my connection to this wonderful land strengthen and flourish.
Living in the diaspora means we are not necessarily surrounded by family, nor immersed in a culture that takes into consideration Jewish values, it therefore forces questions of affiliation, religious observance and identity.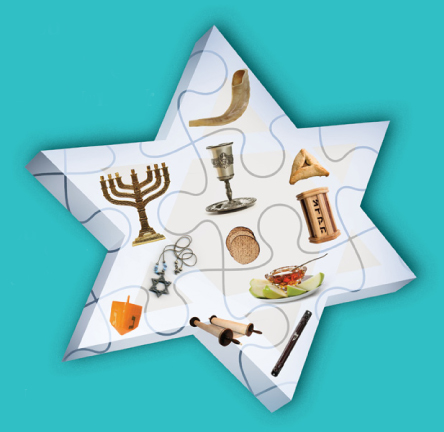 It is no easy task to forge a vibrant Jewishly focused home when most activities, events and even the school schedules are based on the Gregorian calendar.
One way in which we tried to maintain this focus was through celebrating all holidays, including even ones thought to be 'minor' and a parent, I always made sure to do something on Tu B'Shevat.
Tu B'Shevat is a holiday everybody can embrace – easy to understand, easy to prepare for, no myths, or arguable points, and celebrating it is a huge positive for our environment as well as my children's understanding of the importance of Israel.
First, as it always falls two months ahead of Pesach, we planted parsley in clay pots that the kids would decorate; I still have these pots to this day. We would water the soil and watch the parsley grow and harvest this for our Pesach Seder.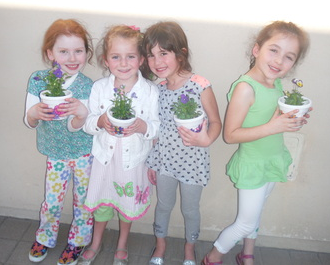 After this planting activity, we always enjoyed a festive, and informal Tu B'Shevat meal.

Aside from the 7 native species, I made sure that the kids knew the four types of foods – some you can eat the seeds, others you cannot, some you eat the skin, others you cannot, and so forth. The fig, likened to the Torah, is the only species that is entirely edible – the outside, the inside, and the stem.

The kids always enjoyed the masses of dried fruits, nuts, honey, and sweets too, and especially dessert!
As my children grew up and became more aware of Israel and their bonds to the land, their connection evolved - Tu B'Shevat was very much part of this development and we even decided one year as a family to plant an entire grove of trees in Israel. We know that this contribution is deeply meaningful and greatly appreciated not only by the people of Israel but also by our own children - one of whom on her own, made the deeply impressive and brave decision to make Aliyah several years ago.

As a parent, I would say that Tu B'Shevat is the perfect way to bring a little bit of Israel into your own home - whether it is a dinner, planting activity or just setting aside time to be with your family and talking about the holiday and it's meaning, you will feel a connection take root and begin to flourish.
---

---