Israel Lacrosse Striker Evan Goldstein: Jewish Identity And Love Of The Game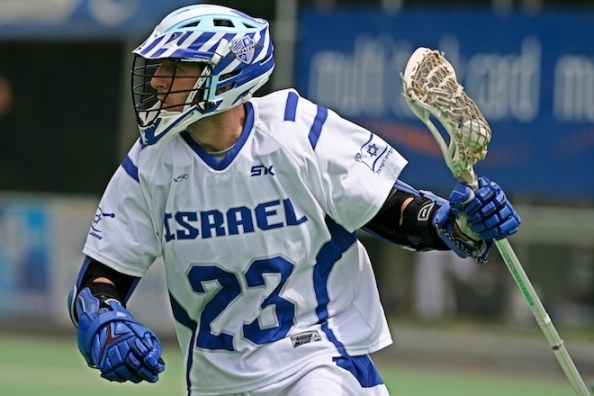 "It is not about winning or losing, scoring goals or championships, it's about growing the sport of lacrosse, and sharing the experiences I had with others, and giving others the joy of experiencing the game." That was the first thing Evan Goldstein said to Jspace about being part of the Israeli Lacrosse Team.
Goldstein, an striker and native New Yorker, first started playing in the ninth grade in Queens, but he has since traveled all over in love with the game. "I was very lucky to be coached throughout my life by hall of famers such as George Baron, Tom Postel and Bill Beroza," Goldstein said.
Why lacrosse? "My high-school didn't have a football team, which is probably good, because I'm not a big guy. Lacrosse is a game of intelligence. Size doesn't matter. It's really a fast paced game; you need to think quickly. I'm think that in that sense it really fits the characteristics of Israelis – they are very innovative, very adaptable, and quick on their feet. It would be a fair statement that lacrosse suits the Israeli nature."
In January 2012, Goldstein heard that the first ever Israeli national team was in the process of being created, and immediately contacted one of the Israel Lacrosse coaches, Jon Barocas, who put him in touch with the director of Israel Lacrosse, Scott Neiss.
"Scott is truly the driving force behind Israel Lacrosse and none of this could have been possible without his vision and direction, which was inspired by his first trip to Israel on Birthright and his making aliyah to Israel thereafter," he said.
How is lacrosse accepted in Israel? "I think Israelis so far have taken to lacrosse with an interest and curiosity for the game. I have noticed that having a lacrosse catch on the beach will always gather a group of spectators, especially when behind the back passes and catches are made and gravity defying 'stick tricks' are performed! It's always only a matter of time before many of the spectators ask to join in. Caution! Lacrosse can be highly contagious!"
Both informal and formal practices and games have been held in Israel since 2011. The first official Israeli lacrosse team was assembled this year in Ashkelon, which is also the team's training home base. Ashkelon, a city within the range of quassam rockets, is a place Goldstein knows well, but he came across an unusual set of instructions at the first day at the gym.
"I have a friend that lives there, and I stay there when I go over to Israel. So far, I have been lucky enough to not experience that [sirens and rockets], but at the training center we got instructions what to do in case of a siren, and I don't remember the exact amount of seconds we were told we would have, but someone joked about being athletes and being able to make it on time."
Goldstein recalls being touched as "Hatikva" was played during a recent tournament against Turkey. Goldstein says that another positive outcome for the Jewish Americans on the team is that at least 15 of the players have made aliyah to Israel, and are connecting with their Jewish roots and passing on the game on the ground.
Due to rules of the International Federation, the team is actually divided into two teams (just like the Israeli Baseball Team), since not everyone has an Israeli passport. So while everybody practices, not everyone can play in an official tournament. Still, word about Israel Lacrosse spread fast, and Team Israel has received equipment from all over the US and Canada as financial donations began to trickle in.
When asked about what he sees as goals looking forward, Evan said, "The future is Israeli born players, and not just American born Jews, and of course, in the future to win championships."
Goldstein is as proud to be an Ambassador of Lacrosse as he is of his Jewish heritage. "The history of the Jews and our eternal connection to Israel is amazing. Hollywood could not write a more fascinating story! The Jewish people have shown throughout history the power of faith and determination."
Read the full article here.