My New Favorite Holiday
By Miriam Young
I used to be a cheerleader and I definitely know how to have team spirit. Now my team is Israel. If I could walk around carrying Israeli flags with me every day, I would.
So naturally I couldn't be happier to have an excuse to cover myself in blue and white and walk through the streets with a flag in my hand and one on my back. Yom Ha'Atzmaut. Israel's birthday. Independence Day! Another holiday you can only fully appreciate or understand through experiencing it in Israel.
So I want to share my experience from today with you: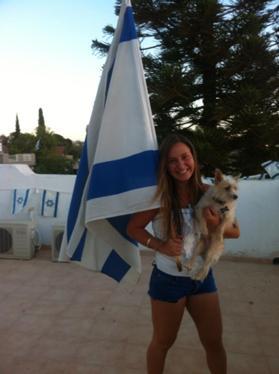 We left Herzliya early this morning to meet at a beautiful hotel in Jerusalem for brunch and discuss the volunteer work of the day.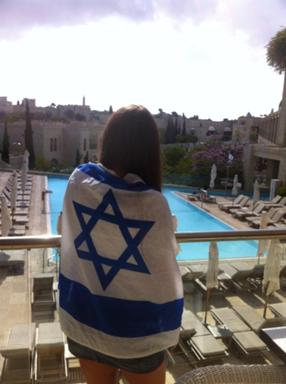 So we gathered our volunteer materials and headed to Kikar Safra to meet the 5000 students from around the world who came to Israel with March of the Living. This means they first visited Poland and were there for Yom HaShoah (Holocaust Remembrance Day) and then made it to Israel in time for Yom HaZikaron and Yom Ha'Atzmaut (Memorial Day and Independence Day).
At Kikar Safra there were live performances of music and dancing.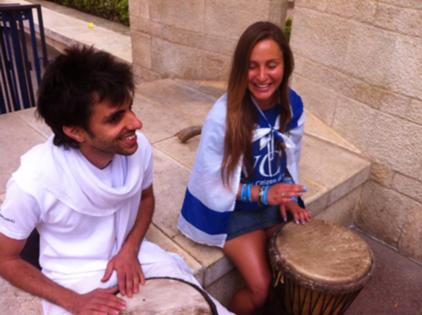 Here we began to sign up the students from around the world as "Virtual Citizens of Israel". As Virtual Citizens of Israel, they get to keep their connection with Israel even when they all go back to their home countries. All of the pride and none of the politics. Not all of us get to make Aliyah and move to Israel, but anyone can be a Virtual Citizen of Israel through the Israel Forever Foundation. So we spent the day signing people up! Then we began our march to the Kotel (Western Wall).
The streets of Jerusalem leading up to the Kotel were closed off to the public and to cars; only open for the March of the Living parade.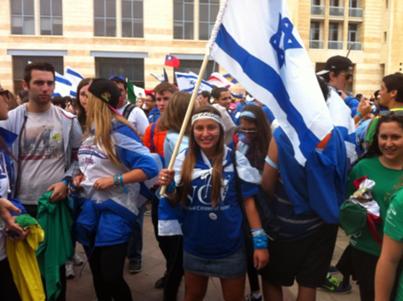 I couldn't keep the smile off my face, it felt so good to be a part of this mass of people showing such an appreciation for Israel.
Everyone sang Israel's national anthem, Hatikvah, together at the Kotel. People sang a little and prayed a little. It was beautiful to see everyone so united. We had a chance to leave notes in the wall. This is how people sometimes ask for their prayers to be answered.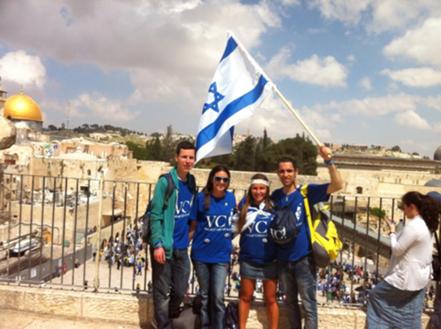 After walking all over Jerusalem and spending the day talking to countless people from so many interesting countries, I definitely feel like I had a fulfilling holiday.
With the long drive home I was left to think about all of the people we met and experiences we shared today. How people from so many different places can go on this journey together. March of the Living. Learning about the horrors of the Holocaust, exactly where it took place. Then coming here and feeling the strong sense of Israeli pride.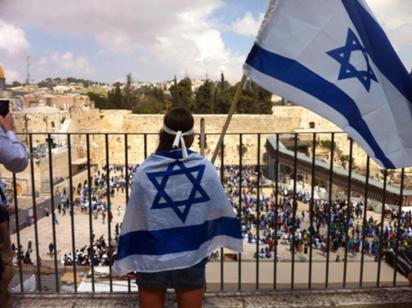 How our common history is a greater link between us than any body of water or differences in language or culture. That wherever we may live, we all share the same homeland. The same promise of a future. Of freedom. Together we mourn and together we celebrate
I hope this gives a sense of what today was like in Jerusalem. Beautiful and wonderful. Powerful. Truly a one of a kind experience….until next year. As I'm writing this I can hardly keep my eyes open after such an exhausting day, but I wanted to share this with you while it is still fresh in my mind. I am reluctantly taking off my flags now. But remember, if it were socially acceptable, this is how I would dress every day.
Click here to view the original article.
---
Tell us about your Yom Ha'Atzmaut!

blog@israelforever.org