Israeli Style Oznei Haman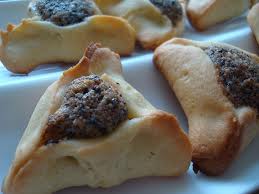 Some speak Yiddish, and call them hamantaschen. Others speak Hebrew, and call them oznei Haman. They are enjoyed by Jews all over the world, and are often considered an essential part of the Purim celebration.

There is much speculation as to the reason we eat these little triangular pockets of deliciousness. Regardless, here is our favorite Israeli-style recipe for this classic Purim treat.
Makes about 40 - 50 
INGREDIENTS
200 g of butter or margarine, cut into small cubes
2 cups flour (300g)
1/2 tsp baking powder
100 g powdered sugar
1 tsp vanilla essence
1 tsp orange zest (did you know this helps the dough from spreading?)
1/4 tsp salt
1/4 - 1/3 cup milk
DIRECTIONS
 In a food processor combine the butter and the flour, baking powder, powdered sugar, vanilla essence and salt. Process until the mixture is crumbly.
Add the milk gradually and only enough for dough to form (try to use as little milk as possible).
Form the dough into a ball, cover in cling wrap and refrigerate for an hour or two.
Heat the oven to 180 degrees C 
Roll the dough onto a floured surface until it is approximately 3mm thick, cut into circles.
Take a teaspoon of filling of your choice and place it in the center of each circle of dough. (If you are using dark chocolate, use one square of a slab for each.)
Fold the dough in on 3 sides to the center to form a triangle, and lightly pinch them together. 
Place on a baking tray, lined with baking paper, and bake for 15-20 minutes until golden.
Allow to cool and sprinkle with powdered sugar for decoration.
POPULAR FILLINGS

In Israel:


Poppy seeds
Date filling
Dark chocolate
Halva
Nutella

You can also try:


Chopped nuts
Prune filling
Fruit jelly/preserves (strawberry jam, orange marmalade, apricot preserves, etc)

Pretty much anything sweet will work - marshmallows? chocolate chips? marzipan chunks? Use your imagination - and filling them can be especially fun for kids!

 
BTEAVON and ENJOY!
---
Recommended for you:
---
Bring Tastes of Israel into your Kitchen!

Get all the recipes you need for the ultimate Purim seudah!