Pesach Egg Rolls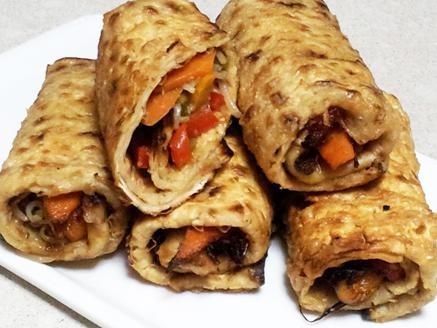 Serving Size: 4 - 6 people

*No Kitniyot
INGREDIENTS:
10 matzot, wet and wrapped in a moist towel
1 TBS canola oil for stir-fry vegetables
1 onion, sliced
2 zucchini, julienne
1 red pepper, cut into thin strips
1 yellow pepper, cut into thin strips
2 carrots, julienne or grated
2 cloves garlic, finely chopped
1 TBSP ginger, cut into fine strips
1 cup bean sprouts
¼ cup parsley, roughly chopped
2 TBSP soy sauce (optional)
*KLP soy sauce is available for kitniyot eaters, otherwise there is a new KLP soy sauce substitute for those who don't eat legumes)
3 eggs
½ tsp salt
⅛ tsp black pepper
½ cup canola oil for frying
PREPARATION:
1. On a medium-high flame, sauté onion until lightly translucent 
2. Add garlic and ginger and sauté for 3 minutes
3. Add rest of vegetables and stir fry until just lightly softened
4. Add soy sauce, parsley, salt, pepper and let cool (can be refrigerated)
5. Heat oil for frying the egg rolls
6. Working with one piece of matzoh at a time, cut into half and add 1 spoonful of vegetables lengthwise - do not overstuff or they won't stay together
7.Gently roll up, dip in egg and place in the hot oil
8. Repeat until all matzot are filled and fried
This recipe makes about 20 egg rolls and you can serve with your favorite Kosher for Passover chili or duck sauce.

B'teavon!
---
Looking for More Authentic Passover Recipes?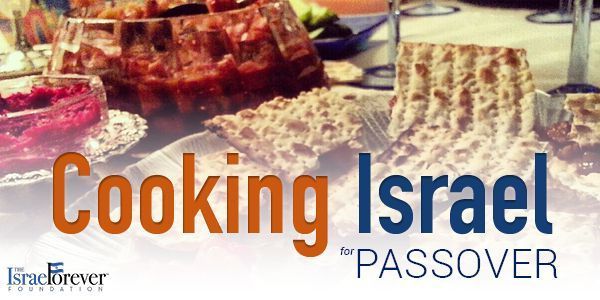 About the Author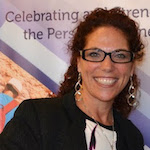 Dr. Elana Yael Heideman, Executive Director of The Israel Forever Foundation, is a dynamic and passionate educator who works creatively and collaboratively in developing content and programming to deepen and activate the personal connection to Israel for Diaspora Jews. Elana's extensive experience in public speaking, educational consulting and analytic research and writing has served to advance her vision of Israel-inspired Jewish identity that incorporates the relevance of the Holocaust, Antisemitism and Zionism to contemporary issues faced throughout the Jewish world in a continuous effort to facilitate dialogue and build bridges between the past, present and future.