Roast Chicken with Pomegranate Sauce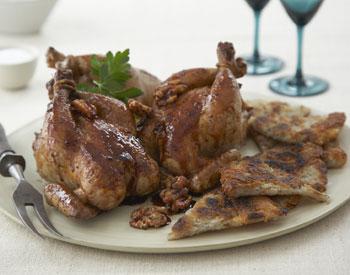 Original recipe by Israeli Chef Einat Admony
Adapted by Nancy Davidson for Epicurious
These fragrant birds, glazed with a Persian-inspired sauce, are delicious paired with the Swiss potato pancakes called rösti.
Ingredients
For Sauce
● 1 cup bottled pomegranate juice
● 1 cup sugar

For Chicken
● 8 (1-pound) poussins (small chickens) or 8 (1 1/4-pound) Cornish hens
● 2 teaspoons salt
● 2 teaspoons ground cumin
● 1/2 teaspoon ground turmeric
● 1/2 teaspoon freshly ground black pepper
● 1/8 teaspoon crumbled saffron threads
● 3/4 cup roasted walnuts
● 2 tablespoons or more vegetable oil, for frying
Preparation
Preheat oven to 375 ° F – 190 ° C
In small saucepan over moderately high heat, whisk together 1 cup water, pomegranate juice, and sugar. Bring to boil and cook, uncovered, until thick and syrupy, about 15 to 20 minutes.
Rinse poussins inside and out and pat dry. Cut out necks if attached and discard.
In a small bowl, whisk together salt, cumin, turmeric, pepper, and saffron. Sprinkle poussins with spice mixture; press to adhere.
Set large roasting pan on stove top, straddling two burners. Add 2 tablespoons vegetable oil and heat over moderately high heat until hot but not smoking.
Working in 2 batches, sear poussins until well browned, about 5 minutes per side, transferring as done to large platter and adding more oil as needed. Return poussins to pan and pour pomegranate syrup over.
Roast 15 minutes. Baste poussins with pan juices and scatter walnuts around. Roast, basting occasionally, until instant-read thermometer inserted into 1 thigh (avoiding bone) registers 170°F, about 15 minutes more.
BeTeavon and ENJOY!
---
More Recipes:
---
Bring Tastes of Israel into your Kitchen!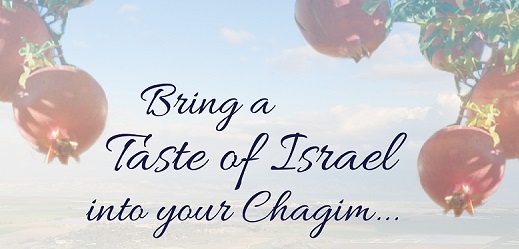 Let the aromas and flavors remind you of Israel, far away, but forever in your heart and in your life!

Click HERE to download our FREE Cooking Israel Cookbook.