Sufganiyot Gluten free Gold
Melt in your mouth #glutenfree deliciousness makes these heavenly sufganiyot a true gold medal winner. The fluffiness, the taste, and the texture just as they should be, everyone will come back wanting more. Make these amazing Chanukah doughnuts for the whole family to enjoy! They're so good, you'll want them all year round!

Makes 12 sufganiyot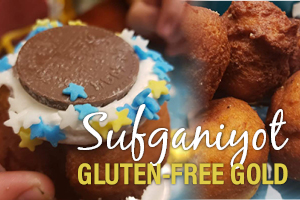 INGREDIENTS
200g lactose free yogurt
3 TBSP Israeli honey
1 tbsp yeast
1/2 cup almond flour
2 cup all purpose gluten free flour (Molino gree, K'ragil, Tami, Better Batter)
1/2 cup sugar
2 eggs
1/4 cup olive oil
½ tsp orange zest
1 tbsp orange juice
1 tsp vanilla
1 tsp salt
Oil for frying - I use half olive oil, half sunflower
DIRECTIONS
Mix together all of the ingredients, starting on a low speed until combined. Then beat well for 9 minutes.
Scoop from the outside of the bowl inward to create a ball. Transfer to well oiled bowl and cover all sides of the ball in oil. Rest for 2-3 hrs. Can be refrigerated, allow to come to temperature plus added rising time before working with the dough.
Using well-oiled hands, or an ice cream scoop, take a ball of the dough - it will be sticky but pliable. Pro-tip: turn the ball "inside out" creating a hole in the middle for the filling. Roll well with hands to form a ball - will not be perfect and will expand to its own beautiful golden goodness in the fryer.
Heat your oil in a deep pot. Fry on a low flame until golden brown on all sides.
BTEAVON and ENJOY!
---
Recommended for you:
About the Author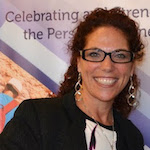 Dr. Elana Yael Heideman, Executive Director of The Israel Forever Foundation, is a dynamic and passionate educator who works creatively and collaboratively in developing content and programming to deepen and activate the personal connection to Israel for Diaspora Jews. Elana's extensive experience in public speaking, educational consulting and analytic research and writing has served to advance her vision of Israel-inspired Jewish identity that incorporates the relevance of the Holocaust, Antisemitism and Zionism to contemporary issues faced throughout the Jewish world in a continuous effort to facilitate dialogue and build bridges between the past, present and future.