Yebreh Stuffed Grape Leaves
Yebreh is so delicious that they are Lisa Melamed's favorite comfort food, even though she only first tasted them after her mother-in-law taught her how to make them. Watch Lisa teach Elana Heideman, Executive Director of Israel Forever, make these stuffed grape leaves.
Watch Lisa Melamed teach Elana Heideman how to make Yebreh.
Try making Yebreh at home and tell us what you think!
Here's the recipe!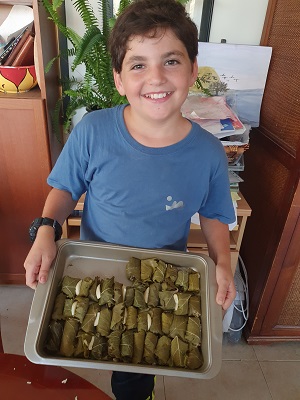 The first thing to do is to prepare your grape leaves.

Wash, boil and rinse them if they are fresh. Rinse them if you buy them jarred.

After you have prepared them, just clip stems and set the leaves out to dry.
For the rice
Ingredients
● 2 Tbsp olive oil
● One onion grated
● Two cloves garlic grated
● 2 tablespoons parsley, chopped
● 2 tablespoons mint leaves, chopped
● 1 tsp allspice
● 1/2 tsp ground cinnamon
● 1 Tbsp salt
● 2 cups basmati rice
● 3 cups water
Directions
Sauté onion, garlic, parsley, and mint in oil over medium heat for about five minutes.
Add allspice, cinnamon, salt. Add rice and swirl in pot to coat rice.
Let rice cook like that for about a minute.
Swirl the pot again and then add water.
Let water come to a boil and then lower fire and cover pot.
Cook on low fire for 15 minutes.
After rice is done, add salt to taste.
For the lemon sauce
Mix together

● 1 cup olive oil
● Juice of 2 lemons
● 2 tsp sugar
Directions
Roll Yebra as demonstrated in video and line up tightly in Pyrex or tin pan.
Place sliced garlic between the rolls.
Pour lemon sauce over the rolls and then add water just to cover.
Cover with aluminum foil and bake for at least three hours at 350 F (180 C).
Midway through cooking, check the yebreh, and add water if it's drying out.
BeTeavon and ENJOY!
Check out these Israeli soldiers who enjoy eating the Yebreh!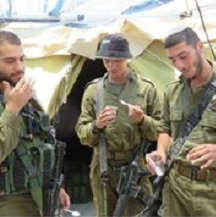 Elana asked Lisa about Yebreh

Q: What is Yebreh?
A: Stuffed grape leaves.

Q: Why is this something you would like to share with our community?
A: Yebrah is a special dish prepared for shabbat and holidays. Although traditionally a sephardi dish, all Israelis are familiar with and appreciate Yebreh.

Q: When is it best for Yebra to be served? Any special holidays?
A: In our family, we make two versions - lemony or sweet - sweet is for Rosh Hashanah.
---
---
Bring Tastes of Israel into your Kitchen!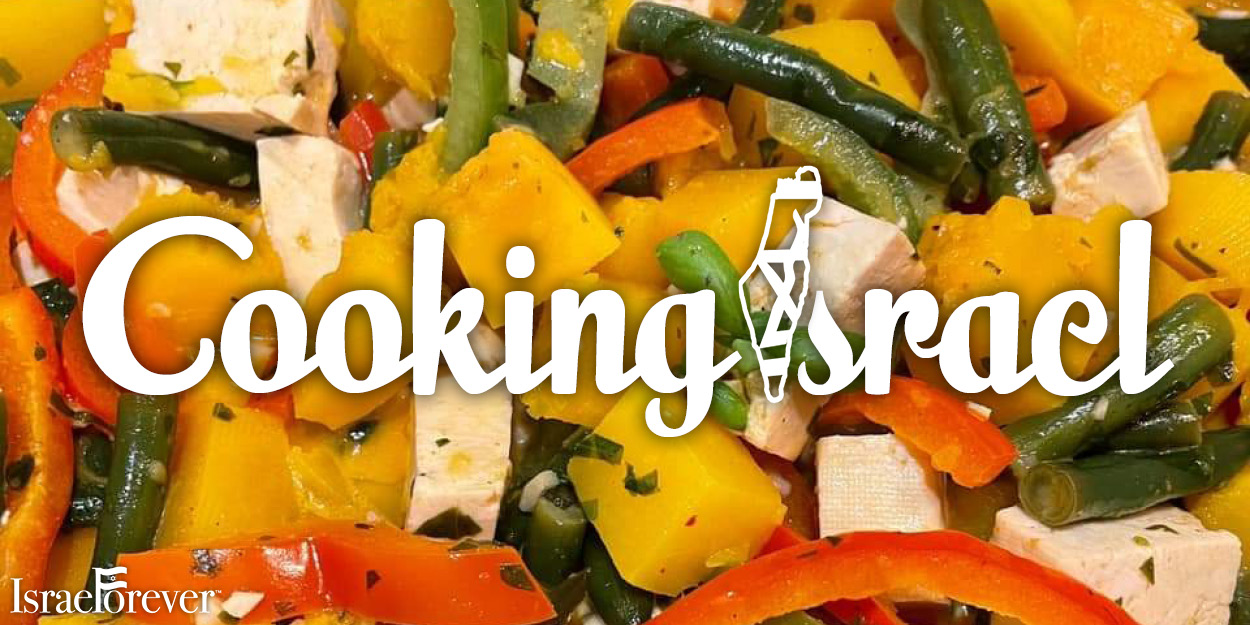 Check out more Cooking Israel Recipes full of aromas and flavors to remind you of Israel today and everyday!

Click HERE to download our FREE Cooking Israel Cookbook.
About the Author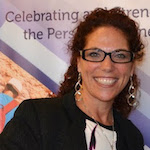 Dr. Elana Yael Heideman, Executive Director of The Israel Forever Foundation, is a dynamic and passionate educator who works creatively and collaboratively in developing content and programming to deepen and activate the personal connection to Israel for Diaspora Jews. Elana's extensive experience in public speaking, educational consulting and analytic research and writing has served to advance her vision of Israel-inspired Jewish identity that incorporates the relevance of the Holocaust, Antisemitism and Zionism to contemporary issues faced throughout the Jewish world in a continuous effort to facilitate dialogue and build bridges between the past, present and future.