PASSPORT CONTROL
by Gila Green
---
Miriam Gil knows little about Israel. Her father won't talk about his life there or the brother he left behind when he came to Canada. Hurt and angry when he tells her to move out to make room for his new girlfriend, she enrolls in an Israeli university. She falls in love with Guy, a former combat soldier who dreams of peace. Miriam is caught off guard when her visa and passport application are rejected on the grounds that she's suspected of being a Syrian Christian. In rapid order, the university boots her out, her one friend is killed in a brawl, and Miriam is accused of murder by Israeli police. Despite troubling revelations about her father's past, Miriam must reconcile with him if she is to prove her innocence, reclaim her life, and hang on to her newfound love.

---
---
DISCUSSION QUESTIONS
Why do you think the title of this book is Passport Control? Would you have chosen a different title? One publisher suggested the title of No Way Home. Do you think that title is preferable?
Would you say Passport Control is historical fiction? A coming of age story? An adventure story? Other? How would you categorize this work?
In the book there is a lot of discussion of identity. What roles our identities play in our lives, multiple identities, weak and strong identities. Did you empathize with much of the discussion? What role does your identity play in your life and which ones (religious, national,ethnic, other)?
Do you think Miriam's father understood why his daughter went to Israel? Have you ever been in this situation as a parent or with your own parent?
Miriam is reluctant to sign the letter her roommate wants her to sign? Why? Do you think she made the right decision in the end? What would you have done in her place?
Miriam is accused of murdering her close friend. Have you ever been accused of something you didn't do? What were the ramifications? Do you think Miriam paid a price for this accusation?
What role does Guy play in the novel? Is he a typical boyfriend? Do you believe Miriam is sincere in her feelings for him?
What would you like to see happen to Miriam in the future? Do you think she should leave her father again and return to Israel or convince her father to come with her?
Do you think Miriam's uncle is an ethical character? Why or why not? Did he do the right thing going behind his wife's back to help his niece?
What did you learn about the various peoples in Israel from this novel? Anything you did not know before? Did it make you want to visit Israel or another Middle Eastern country?
---
WHAT READERS ARE SAYING
Many novels have attempted to orchestrate the impossible marriage of politics and human relations in the state of Israel, but few have presided over that perilous ceremony with the grace, affection, and emotional clarity of Gila Green's Passport Control. A stunning achievement.
Steve Stern, author of The Book of Mischief
I could not stop reading. There is no higher compliment than that. You have captured some truly wonderful, funny but lunatic moments of a world that you have uniquely rendered with amazing detachment. Many of these pages will leave readers grappling with a sense of their own identities as they left me.
Mark Mirsky, author of Blue Hill Avenue and Fiction Magazine editor
Gila Green's passionate novel, Passport Control, is a mosaic of one family's secrets set against the background of Israel's multiple identities. It is smart and sympathetic, admirable in both intent and execution.
Melvin Jules Bukiet, author of Strange Fire
Overflowing with drama, politics, personality and angst, Gila Green's Passport Control delivers on all of these fronts… Green presents her characters and their setting in vivid detail, while still allowing readers to make their own emotional connections to the time and places in Miriam's story. Throughout Miriam's experiences, Green weaves a sophisticated commentary on the political and socio-economic divisions in Israel and Diaspora Jewry. This is a tremendous gift to readers who will understand all its subtleties. Book clubs will find an endless stream of discussion topics. Casual readers will appreciate Green's ability to fit so much nuance in a tightly written narrative. Like Miriam, all will emerge with a greater empathy for those who need to live with a complicated past.
Rabbi Deborah Miller, founder of the Books and Blintzes blog
---
The Reading Israel Book Club: Bring us to your community and be inspired!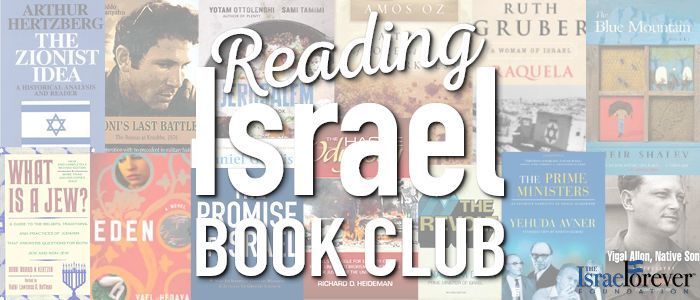 Throughout the year, the Reading Israel Book Club of Israel Forever brings you a new literary delight to grow your Israel connection through the written word.

We hope that you enjoy our selections and participate in discussion not only with your friends and family but with an international community of readers in our open discussion group on Facebook.