WHITE ZION
by Gila Green
---
White Zion is a novel-in-stories (published by Cervena Barva Press, 2019). The novel takes readers into the worlds of 19th century Yemen, pre-State Israel, modern Israel and modern Canada. You will hear the voices of a young boy marveling at Israel's first air force on his own roof, the cry of a newly married woman helpless to defend herself against her new husband's desires, the anger of the heroine's uncle as he reveals startling secrets about his marriage and the fall-out after generations of war.

---
---
DISCUSSION QUESTIONS
Why do you think the author chose the title White Zion? What does it signify to you? Would you have chosen a different title?
Who is the hero/heroine of this novel-in-stories? What makes a hero or heroine?
Do you think the author chose the right format for this work? In other words, do you think the work would have been more effective as a novel rather than a novel-in-stories?
Did you learn anything about Yemenite Jews? Israel? Other cultures? Did you find the book educational?
Did White Zion offer you another perspective on Israel or Canada? What about the Ottoman Empire?
Were there any friendships in White Zion? Why or why not? Do you think that was deliberate on the part of the author?
In White Zion there are many family relationships. Which struck you as the most outstanding? Could you relate to any of the family relationships in this work?
Miriam loves her grandmother but her grandmother makes comments some may perceive to be racist? Do you think Miriam considers her grandmother a racist?
What part does war play in White Zion? How many wars are mentioned and do you believe they are explained adequately?
Do you think Miriam's father sacrificed something when he moved to Canada? Was it the right thing to do? Have you made similar sacrifices?
The themes of intermarriage and blended families are explored both in "Spider Places" and in the short story "White Zion"? What do you think the author is telling readers about intermarriage? Do you relate to these messages?
Do you believe there are "good guys" and "bad guys" in White Zion? When all is said and done where would you put Miriam? Her father? Her mother?
---
WHAT READERS ARE SAYING
"Gritty yet shimmering stories! I'm not exaggerating here one bit. It's titled 'White Zion' but Gila Green paints from all the colors/hues of the Jewish palette. These gritty yet shimmering stories get into you. I read them all in two swoops, then stayed up for an hour or two, maybe four, waiting for my heart to return to normal."
-Ruchama King Feuerman, author of In the Courtyard of the Kabbalist and Seven Blessings
"In a journey of generations from Aden to Palestine to Ottawa, one Yemenite family encounters new and difficult realities: racism and war, rejection and divorce, resourceful survival and tragic death. With smells of delicious breads wafting up from the page, embroidering detail upon detail in fine literary stitch, Gila Green draws us fully into her narrative, as she generously shares with us the hidden core of family life and the stories she is not afraid to tell."
-Yael Unterman, author of The Hidden of Things: Twelve Stories of Love & Longing
"Imagine a group of friends and relatives coming together throughout the afternoon over food and drink, staying late into the evening to share stories that engender laughter, tears, empathy and admiration. The profoundly satisfying stories in White Zion are rich in intimate detail, peopled with a cast of heart wrenching characters at once familiar and unique, a gathering of personalities that leaves me reluctant to leave their company and eager to revisit them."
-Pearl Luke, author of Madame Zee and Burning Ground
---
The Reading Israel Book Club: Bring us to your community and be inspired!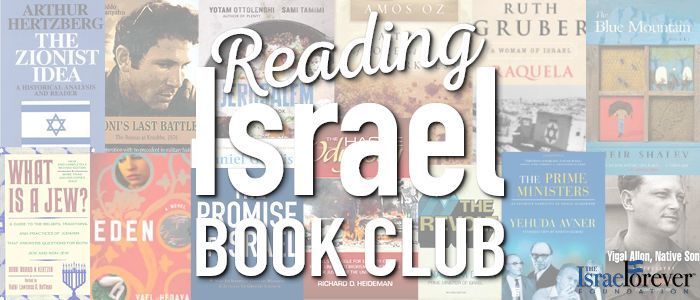 Throughout the year, the Reading Israel Book Club of Israel Forever brings you a new literary delight to grow your Israel connection through the written word.

We hope that you enjoy our selections and participate in discussion not only with your friends and family but with an international community of readers in our open discussion group on Facebook.