Remembering Israel's Fallen Soldiers
As we approach Israel's Memorial Day (Yom Hazikaron), many are searching for ways to partake in the commemoration of the over 24,000 who fell to ensure its freedom and security. Whether killed in one of the conflicts leading to independence, in one of Israel's wars, or in counter-terror operations, these men and women gave their lives for the State of Israel and the Jewish people. Their sacrifice is certainly worthy of our remembrance, but how can we ensure that tribute is paid in a meaningful, special way to each and every one of them?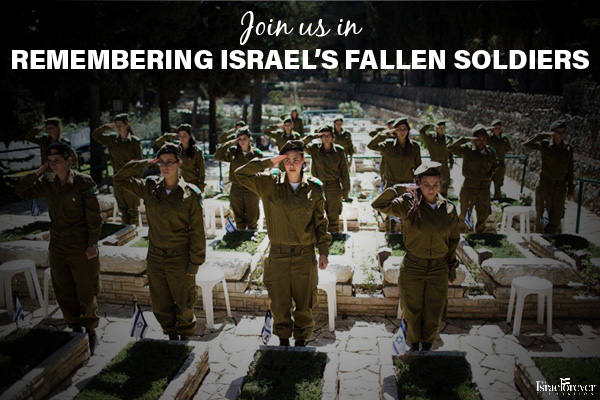 To address this question, Israel Forever has partnered with the Helping Israel Fund, a non-profit organization which has begun a unique new campaign to remember every soldier who has fallen in Israel's defense. By making a symbolic $18 donation to the Fund's Bereaved Families Program, participants will receive a certificate with the name of an Israeli soldier who fell during his or her service. Participants are asked to light a candle and say a prayer for their soldier the night of Israel's Memorial Day, the day before Yom HaAtzmaut, Israel's Independence Day.
All proceeds from the campaign will go towards the needs of Israel's bereaved families. From providing financial support to those in need, to treating family members to recreational activities to take their minds off of their emotional stress, to academic scholarships for orphans, the Bereaved Families Program fills a need which unfortunately will in all likelihood continue to exist for years to come.
However, it is an honor to support those who paid an unimaginably high price as the ones who were dearest to them fell in Israel's defense. We will continue to assist them in any way possible, and we hope that those who hold Israel dear will be a part of this important project and help remember every single one of Israel's fallen!
For more details and to join, please visit www.israelsfallen.com
Honor the memory of a soldier

---
Recommended for you:
---
STAY CONNECTED NO MATTER WHERE YOU LIVE