A birthday party for a hero: Ohad Ben-Yishai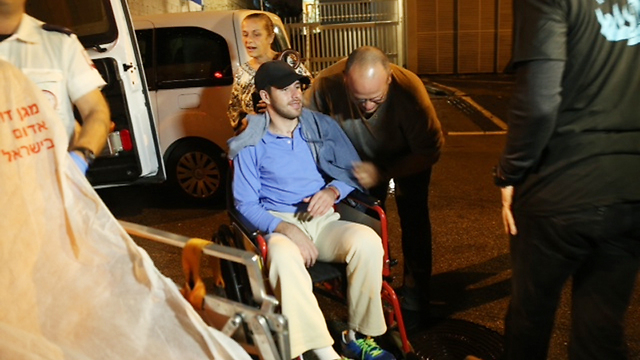 A Magen David Adom ambulance was parked outside of Tel Aviv's The Zone music venue and bar in the early hours of Tuesday afternoon, but it was not there to respond to a call. Instead, the ambulance had transported Ohad Ben-Yishai, an IDF soldier from the Egoz unit who was critically wounded during Operation Protective Edge, to a 20th birthday celebration his friends had organized.
Hundreds of friends and family awaited Ben-Yishai to celebrate with him and cheer him up.
Although his injury left him unable to speak, Ben-Yishai's excitement was apparent, his eyes were gleaming as he waved to his friends and kissed and hugged those who had come to celebrate with him.
"Ohad does not speak but he understands everything and we can see that he understands the meaning of the position we are in," said his mother Erica.
"We are very proud of the trials he has overcome and hope that next year we will celebrate the end of this journey," she said.
Ben-Yishai was wounded from shrapnel that hit his head following a mortar attack in the Saja'iyya neighborhood in Gaza.
"Since he was wounded, Ohad has changed a lot, even though he still has a long way to go," said his mother.
Ben-Yishai's father Shimon said the event was organized after the wounded soldier's friends felt there was a need to brighten Ben-Yishai's spirits and give him the strength he needs to continue on with his rehabilitation.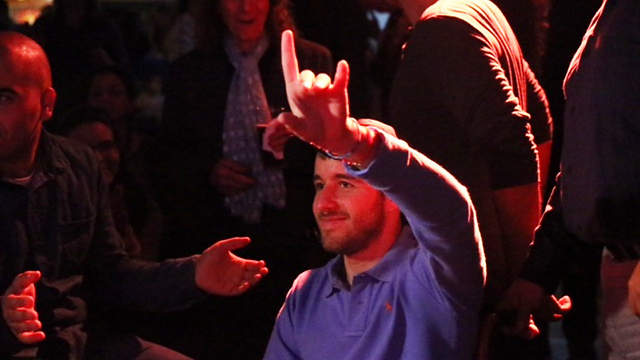 "The Egoz unit is amazing in the way it has hugged us throughout this entire journey, from his hospitalization at Soroka and until today. They come all the time, the full unit, with a lot of warmth and love. Ohad gets excited every time he sees his friends," his father said.
Among the guests was a commander of the 12th Golani unit, Lieutenant Colonel Shai Siman-Tov, who said that he came to strengthen Ben-Yishai.
Sara Zeltserman and Anik Gertler, volunteers at the Rehabilitation Center at Sheba Medical Center, also came to celebrate after they had accompanied Ben-Yishai over the last few months and came to feel like part of his family.
"When he sees the volunteers he hugs and kisses us," the rehabilitation volunteers said adding, "We've connected with him."

Keep up with every new Israel Forever story on Facebook and Twitter and encourage your friends and family to join in the conversation!
---
Help us in our efforts to spread awareness of Lone Soldiers to communities throughout the world!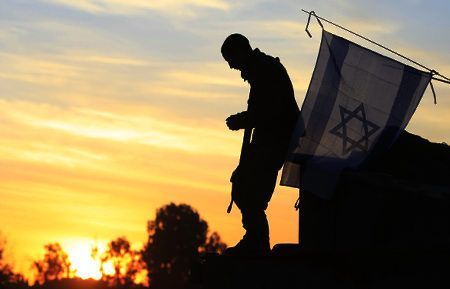 ---
---
Read the full article here.