An IDF Story Of Friendship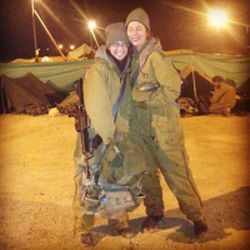 The IDF has never been just a defense force. It is an "army of the nation," where a great variety of people from around the world and within Israel come together. The army is a unique and challenging experience in a soldier's young life, and the potential for lasting friendship is immense.

2nd Lt. Margot Lurie (First Israel Forever Intern and beloved member of our global community of Virtual Citizens of Israel) and 2nd Lt. Lev Cosijns recently celebrated the conclusion of their officer's course for the Medical Corps together. This is their story.

Two origins, one destination

Though she was born In Tokyo, Japan, Lev is a citizen of the world. It's difficult for her to say where she is from, or what her nationality is."It's a mess," she says. She's lived in England, Belgium and Hungary, and her father's job with Sony has bought her family back to Tokyo. Yet, through all the upheavals of her life, she's had one mainstay – Israel.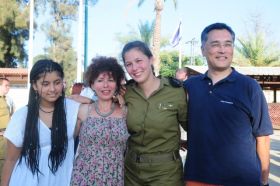 "The only constant thing I had in my life except for my parents and sister was Israel. No matter what, even if there was a war, we would go to Israel over the summer."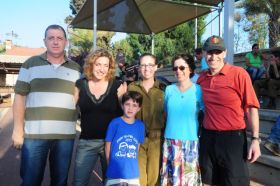 2nd Lt. Lurie's life has been less geographically complex. She hails from Boston, Massachusetts, and making aliyah wasn't always part of her plan. After attending public school, Lt. Lurie visited Israel with her university for three months in 2011, and "fell in love with the country all over again."

Like many other new immigrants, she finally decided to move to Israel because she "feels more at home in [Israel] than anywhere else."
A chance meeting

 2nd Lt. Cosijns was the medic on 2nd Lt. Lurie's base during the latter's basic training. But they wouldn't cross paths until one day, when then-Pvt. Lurie's company was spending a day training out in the field. "It's a really great story," says 2nd Lt. Lurie.

"A friend from my company got a nosebleed. She went into shock and didn't know what to do. So I started to help her stop the bleeding and that's when Lev came over. That was the first time I met her."
They met each other again at a program for Lone Soldiers, and from then their friendship blossomed. "We have an incredible bond. we know what it means to be lone soldiers, what it means to struggle with the language, what it means to write an eight page essay in a foreign language, what it means to write a book report," says 2nd Lt. Lurie, referring to their work during officer's training.
Though 2nd Lt. Cosijns joined the army first, the new officers began their path towards their new ranks together because the Bostonian rushed into the course. Even though they didn't have the same schedule during the course, the two would run over to one another during their lunch breaks just to say hello and see how the other was doing. "I just can't imagine having done this without her," says 2nd Lt. Lurie. "Margo is an amazing person and I'm so lucky to have met her," cuts in 2nd Lt. Cosijns. "I know I'll be in contact with her for the rest of my life."
Bound to the IDF Medical Corps

Though these new officers have vastly different backgrounds, they ended up together because of their shared passions for Israel and for helping others through medicine.

Before joining the IDF, 2nd Lt. Lurie volunteered at the Boston Children's Hospital for five years, working with kids with cancer. "This, combined with my degree in biology, meant I knew I wanted to join the Medical Corps," she said.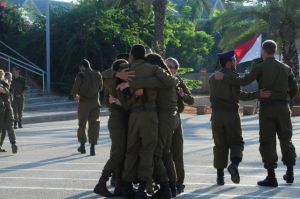 As for becoming an officer, 2nd Lt. Lurie believes that "the officer's course was the best way to help improve the future of the army and the country. The IDF is not a regular army but an army that helps the entire nation. So by building the army you help build the nation."
2nd Lt. Cosijns path to becoming an officer in the IDF Medical Corps was equally predictable.
"I've always loved working with people, making them smile and making them feel better," she said. When she was living in Hungary, she didn't speak the language but she was still able to connect with people around by volunteering in the hospitals.

In her basic training, a difficult time for many new recruits, 2nd Lt. Cosijns was known as the psychologist in her company. "It's hard for them to become accustomed to the army, and to be away from their parents for weekends because they have to stay on base for Shabbat."

But as someone who worked hard to join the IDF, despite all the difficulties lone soldiers face, 2nd Lt. Cosijns was able to stay strong. Or, as she put it, "I always tried to look at the bright side of everything."
Keeping the dream alive

"It's really a privilege to be able to serve our country," said Lurie. "We have no other place. It's a dream come true to become officers. It's an honor to march under our country's flag and to receive our ranks."

"For us coming to Israel was a dream," Cosijns added." It's like we're keeping other's dream of coming to Israel alive."
Previously published on the IDF Blog
---
These brave men and women leave everything behind to defend
our one and only Jewish State.




Inspire Israel™ in others by sharing this post!