Lyrical Tu B'Shevat Micrography Art
Using text from your favorite Tu B'Shevat songs, stories, etc, you can create a one of a kind piece of art that focuses on the connection between the language of Israel and the roots of Israel.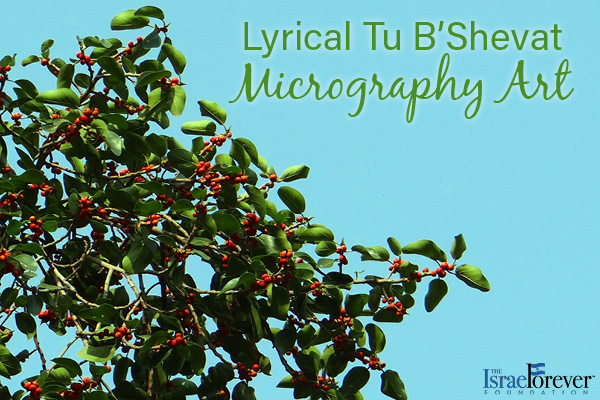 SUPPLIES
---
1. Thick, smooth paper (preferably acid free so your creation does not fade)
2. Ultra fine point pens (select many different colors of your liking)
3. Lyrics to Hashkaydia Porachat which you can find HERE.
4. Pencils (if you wish to sketch/write in pencil first)
STEPS TO CREATE YOUR LYRICAL TU B'SHEVAT MICROGRAPHY ART
---
1. Draw a big tree with whichever fruit you would like in your tree.
2. Add things on your ground and in your sky. For instance, your ground can be made of hills, brown/sandy dirt, flat green grass like a soccer field, a Jerusalem cobblestone street, etc. Make your shapes large enough to fit words inside of them.
3. Pick a place to start writing your text inside the outlines of your picture. You can use the words to Hashkaydia Porachat V'Shemesh Paz Zorachat… "The almond trees are blooming."
You can use any type of ultra fine point pen, gel pen, or any other favorite pen of your choice, in any color of your liking.
Go slow and take your time. Let the shapes of the letters dance on your page.
4. Once your words are finished, you can add the almond blossoms to your picture by either drawing little pink blobs or crinkling tissue paper and gluing it down. This will add a beautiful and colorful addition to your artwork.
ENJOY!
CLICK HERE FOR YOUR DOWNLOADABLE PDF »
---
THE 7 SPECIES FRUIT & TREES AND EXAMPLES OF OTHER ISRAELI FRUIT TREES
---
Have your artwork featured in our online Israel in My Art gallery! Sign your artwork with your first name and last initial and email it to Stefie@IsraelForever.org

Painting as a part of a class or art group? Send us your selfies and group pics for a shoutout throughout our global Jewish community who loves sharing the Israel connection with their fellow Virtual Citizens of Israel around the world. Follow us social media and you can either post your pic online and tag us in your post or email it directly to Stefie@IsraelForever.org.

Help your students find unique ways you to incorporate the Israeli flag and the flag of the country in which you reside into your drawings as well, so that the world can see the vast number of nationalities of our IFF artists!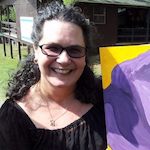 Stefanie Jo Heideman, founder of Art Escapades, is an art educator who believes that art is not supposed to be competitive, but rather a peaceful, relaxing experience for one to engage in and enjoy. As the Arts and Education Specialist for Israel Forever, Stefie is able to weave her love of Israel into her projects and lesson plans for individuals of all ages and stages of life.
---
Recommended for you:


---
ISRAEL IN MY ART: TU B'SHEVAT