Sportsman Of The Month: Oren Dvoskin
By Uri Shamir, Galil Ole Website and Janet Lerner, translation from Hebrew.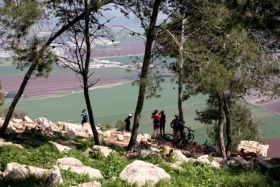 Copyright © KKL-JNF Photo Archive
Sports in the Upper Galilee never cease to surprise and supply us with exciting and inspirational stories. And if we're already on the subject, the sport of cycling has become an excellent and reliable source for this category.
So, after we hosted a mother of four (Keren Shapira), a diabetic (Cookie Rodenburg), a rider with physical limitations (Eyal Avigdor), we now have the honor and pleasure to host Oren Dvoskin, 40, married to Adi and father of Mika (6) and Sahar (2.5), who live at Kibbutz Naot Mordechai.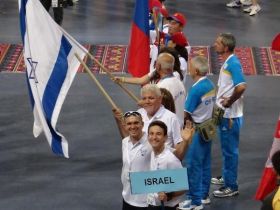 Dvoskin, who has been riding for three years as a member of For Galilee Cycles (FGC), is hearing impaired, but manages to hear with the help of a cochlear implant that he's had for a number of years. Dvoskin returned from the Bulgarian capital, Sofia, where he participated in the international Deaflympics this past summer.
Dvoskin's life story is amazing and we present this man who has turned difficulties and limitations into opportunities. He succeeds in doing unusual things, but before we get to those, let's get an impression of the Deaflympics.
The Deaflympics, held since 1924 in Paris, is an International Olympic Committee (IOC) sanctioned event, acknowledging the challenges faced by deaf elite athletes, and celebrating the uniqueness of the international Deaf community. The games, both summer and winter, are held every four years, consecutive to the Olympic "year". The Sofia 2013 Deaflympics showed participation of over 3,000 athletes, from 70 countries, competing in 20 Olympic disciplines.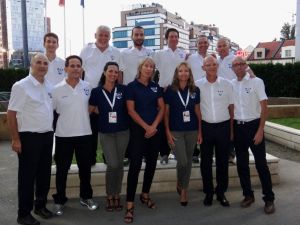 Israel's delegation included six athletes: Road cycling, Beach Volleyball, Shooting, Bowling and Karate. The delegation was organized and led by the Israel Deaf Sports Organization.

Oren Dvoskin went to the Deaflympics with his own supportive and honorable team: His parents, Dan and Susie, a past elite synchronized swimmer; and his brother, Oded, who outdid himself – coming especially from the United States after not seeing one another for two years; and his dedicated coach, past Israeli cycling champion Ido Syrkin.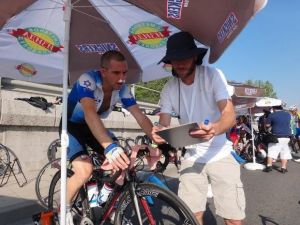 Dvoskin says of Syrkin: "What an amazing coach and powerful personality! I joined the group when I was feeling depressed and wanted to lose weight after three years of no organized sports. I was welcomed warmly by the group, and by Ido. I saw that I could succeed in adapting to the framework, and I've been there since, thanks largely to Ido's professional support that prepared me for the competitions in an ideal way."
During the week of competitions in Sofia, Oren took part in four different races, in which first-rate cyclists from around the world participated. Dvoskin didn't go to Sofia with pretensions of standing on the podium, but to give the fight of his life, to taste the experience and prove to himself again his ability to break barriers. These are the races in which Dvoskin participated:
1000m Sprint – Over a course of 250 meters which the cyclists cover back and forth twice, with a 200m timed sprint at the end. In the preliminaries Oren finished 32nd out of 42, and missed being included in the finals by only 0.8 sec.
38km (24mi) Time Trial – During which the cyclists are exposed to 10km of increasing uphill slopes, followed by a steep descent of 9 km, then back. In this race the wind played an influential part in the performance. Dvoskin finished 33rd out of 42, in one hour, three minutes, and 45 seconds; the winner finished in 51 minutes, 35 seconds!
100km (63mi) Road Race – Yes, you read correctly. Dvoskin rode for no less than 100 km, two 50km circuits, during which the cyclists covered 7km of uphill climbing. Strong side winds once again affected the race, which was on a track full of deep potholes. The race showed a brutal pace, with speeds rising over 60 km/h (38 mi/h) over the flat segments. Oren even put in an attack and broke away from the peloton (the main group of riders). Dvoskin completed this race 24th out of 47 competitors – when many left in the middle. He finished in two hours 45 minutes; the winners completed the course in 20 minutes less.
50km (31mi) Points race – 50 laps around a 1km circuit, 500m out and back with two U-turns! The competition was aggressive, and Dvoskin with another 30 of the 45 cyclists, overtaken by the leaders, were required to leave in the middle. Dvoskin shares the event with us: There were a lot of crashes in the first laps, luckily I avoided them, but got delayed behind. I joined other cyclists and tried to lead the group back to the peloton, but unfortunately without success.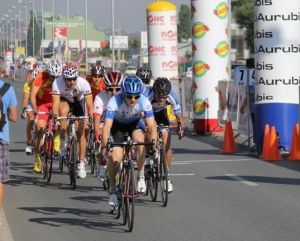 Dvoskin had a moving experience after the race, "The special event was that after the road race my Israeli flag was forgotten in the field. At the next race the German technical director came up to me and returned it. In his other hand he held a German flag, and in sign language, he offered an exchange. I was very moved. All the stress of the past days, the preparations for the last race, and the special gesture – an Israeli flag in exchange for a German flag, brought tears to my eyes."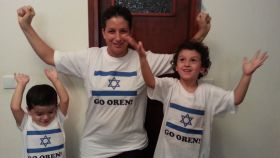 Israel, Judaism and Oren's family were with him at every race, "Prior to each race at the starting line, I warmed up under the Israeli flag, silently recited the 'Shemah' and visualized my wife and children."
Dvoskin sums up the competition with great satisfaction, "I came knowing I was competing against the best in the world, so I had no sky-high expectations of achievement. I was happy to participate, glad to discover new things about myself, and that my potential is higher than I thought."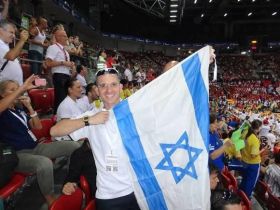 "This was an amazing social and family experience, and a special honor representing Israel," described Oren. "For years I have been hearing impaired in a hearing society, and this time I was hard of hearing among deaf individuals. As someone who does not know sign language, it was a special experience being among the international Deaf community, who communicate this way."
The life story of Oren Dvoskin, US born and originally a Ra'anana resident, for the past nine years living with his family at Kibbutz Neot Mordecai, contains many examples of breaking barriers despite numerous difficulties. Oren had hearing impairment from a young age, but over the years, despite the objective difficulties and limitations, succeeded in being accepted as an officer in the <a "="" target="_blank" href="http://www.idfblog.com/2013/06/12/the-minds-behind-the-computers-and-the-army-that-trains-them/" title="IDF Computing and Information Systems Center (MAMRA" m)"="M)">IDF Computing and Information Systems Center (MAMRA"M), serving in an elite Air Force unit, and studied software engineering at the Interdisciplinary Center (IDC) in Herzlia.
In the mid '90s, Triathlon became a part of his life, when a great tragedy struck his family: Oren's sister, Tamar, was killed in a hit and run accident while cycling on the Ayalon Freeway. For close to twenty years his family has been memorializing her by organizing Israel's Women's Triathlon, traditionally held during June in Herzlia. Oren got to the Galilee following a job offer from the hi-tech company where he worked. For the last two years he has been studying for an MBA at the Technion in Haifa, and been a part-time computer science lecturer at the Tel Hai College.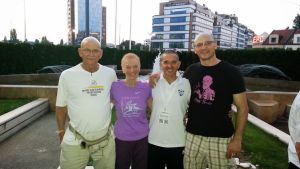 Even so, coping is not easy, Dvoskin explains: "I don't give in to myself, but I won't lie. I, too, have moments when I break down, moments of bitter disappointment, and it's challenging to find the energy. It takes a lot of strength and support to cope with these kinds of difficulties, and there are times when I accept that I don't have them, yet find the way to recover, and move on. I'm glad I can gather the strength, together with my amazing family!"
Oren continued, "At the moment I'm at a crossroads in my life. We want to stay in the Galilee, but the challenges of employment and livelihood here worry me, and if I don't manage to find employment and an appropriate income, we're going to have to leave. I really hope this doesn't happen; the Galilee is a warm and loving place, it's the most beautiful in the country, certainly the best for cycling, and we really want to stay and live here."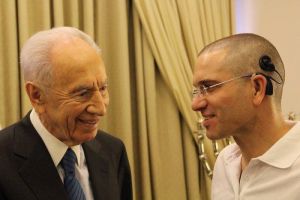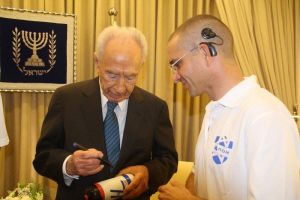 About two months ago, Dvoskin and his fellow delegates to the Deaflympics met with the President of Israel, Mr. Shimon Peres. Dvoskin shares with us his impressions of meeting the Number One Citizen: "It was a very happy and very exciting meeting. The President received us warmly and generously, shook hands, spoke with us, and wished us success. The big deal, as far as I'm concerned, is that I got his autograph."
Oren excitedly continued, "When I went there, my Druze teammate, Shada Halabi, from Beit Jann, who is a big fan of the President, asked me to get him an autograph. Despite the meticulous security checks, I managed to smuggle in my team's cycling bottle and a marker. The President gladly signed, and enjoyed hearing the story behind this:
A tribute illustrating the special and supportive spirit at my cycling team."
Beyond settling in the Galilee, Oren has many future aspirations:
Internationally – Oren is involved in forming the world's first deaf and hearing impaired professional cycling team.
Locally – He's promoting cycling among the Israeli hearing impaired community.
And always with an entrepreneurial spirit – Oren aspires to develop technologies that will allow widespread and easier usage of hearing solutions, helping to break barriers about hearing loss.

For any questions, please contact ordvoskin@gmail.com

Photo credits:
Oded Dvoskin – private Picasa album
Moti Deiboch – Israel Deaf Sports Association

Oren wishs to thank Uri Shamir, of the Galil Ole website, for his kind permission to use this previously published article in Hebrew and a special thanks to Janet Lerner, who did a fantastic job at translation from Hebrew.
---
Recommended for you: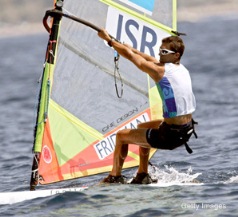 Israeli Frontline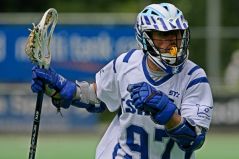 Emory University
---
STAY CONNECTED NO MATTER WHERE YOU LIVE