Healthier Gluten-Free Chanukah Donuts
Who knew it was possible, but YES these sufganiyot are gluten free, dairy free, and can be baked or fried! Light and fluffy, they can be filled with your favorite jelly or cream and iced to your festive liking. Give these golden free domes of deliciousness a try and celebrate the Chanukah miracle in style!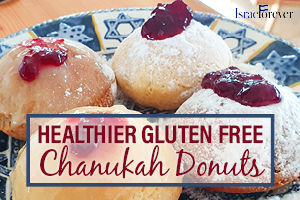 INGREDIENTS
350 ml soy, almond, milk
1 tbsp yeast
3 tbsp brown sugar
1 ½ cup all purpose GF flour of choice - Molino, Tami, K'ragil, Bob's Mill are all great
1 cup almond flour
1 cup arrowroot flour
½ cup cassava flour
¼ cup coconut flour
1 tsp psyllium husk
½ cup sugar
2 tbsp Israeli honey
2 tbsp vanilla pudding mix
1 tsp vanilla extract
½ tsp cream of tartar
¼ tsp baking soda
1 egg, separated
½ tsp apple cider vinegar
¼ cup Israeli olive oil
1 tsp salt
DIRECTIONS
Warm the milk slightly and pour into mixing bowl. Add the yeast and sugar, mix gently with whisk, and allow to rest for 15 minutes in a warm environment covered with a cloth.
Add all the rest of the ingredients EXCEPT FOR the salt, oil and egg white. Beat on low for 5 minutes.
Add the oil and salt, then beat on high for another 5 minutes.
Bring the dough together into a ball shape formation and transfer to a well oiled bowl. Using oiled hands, turn the dough so that it is covered on all sides by the oil.
Let rest, covered with a cloth, for at least 2 hours.
Gently scoop out balls of dough with an oiled ice cream scoop, deep ladle, or your hands. Shape gently into a ball and rest on your baking pans.

*This multipurpose dough can also be refrigerated for up to 2 days. While cold, you can scoop out balls and shape them, best with oiled hands. Lay on your baking pans (or small baking sheet squares if frying) to rise for at least 2 hours.

TO BAKE

I personally like my gluten free donuts baked. Better consistency, better fluffiness, better taste. Preheat oven to 200C/357F.

Baked gluten free sufganiyot often fall flat if just scooped onto a baking sheet, but I have found that baking into large muffin tins or these fantastic round silicone molds make for the perfect shape kids especially are hoping to get.

Place baking pans near lower center of the oven. Bake for 19-24 minutes, browned on the outside and resistant to the touch but not overcooked.

TO FRY

Listen - I HATE TO FRY. Unhealthy, and is so easy to mess up… That said, if frying is your thing:

Using the same molds or cut up baking sheet into small squares the size of your preferred sufganiyot. This makes it easier to pick them up one at a time and drop them into the oil, but they plop perfectly right out of the round silicone molds, too!)
Heat up your oil to a steady heat, around 150. I use a medium flame to start and then reduce the heat to low ensure the outside won't burn before the inside is cooked through. Gluten free dough fries up to a burn very fast, but the inside can easily remain raw so better to cook on a lower flame.
Drop only 2 or 3 sufganiyot into the oil at a time, being careful not to crowd, and not to splatter.
Using an open-slotted utensil, gently turn them until brown on all sides, then move to a paper towel covered platter to soak up the remaining oil.

FILLING

Let the sufganiyot cool for at least an hour.
Take a knife and gently slide into the sufganiyah, turning the knife so that it creates a cavity. Fill with your favorite ingredients - seedless jelly, vanilla cream, chocolate ganache, caramel. (Or just leave plain and give your guests the fun adventure of dipping their own sufganiyot into their topping of choice). Sprinkle the top with powdered sugar and voila - Chanukah deliciousness at your fingertips!
BTEAVON and ENJOY!
---
Recommended for you:
About the Author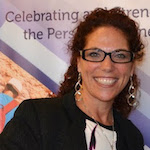 Dr. Elana Yael Heideman, Executive Director of The Israel Forever Foundation, is a dynamic and passionate educator who works creatively and collaboratively in developing content and programming to deepen and activate the personal connection to Israel for Diaspora Jews. Elana's extensive experience in public speaking, educational consulting and analytic research and writing has served to advance her vision of Israel-inspired Jewish identity that incorporates the relevance of the Holocaust, Antisemitism and Zionism to contemporary issues faced throughout the Jewish world in a continuous effort to facilitate dialogue and build bridges between the past, present and future.