Looking Back and Moving Forward: Israel Forever on the Rise
When you look back on 2018, what comes to mind? Much has happened: The 70th birthday of Israel was met with some good, some bad and some ugly hatred. Missile bombardment of Israeli communities with kite and balloon arson terror that is still plaguing our citizens on the border of Gaza. Enormous Hezbollah attack tunnels into Israel discovered. The creeping rise of public expressions of Jew hatred, the shooting in Pittsburgh, the continuous marking of swastikas on Jewish homes, schools, graves.

The political tensions that are tearing us apart, the election of virulently antisemitic and Israel-hating politicians in the US and elsewhere in the world. The riots on our border, a clear act of war ignored by the world, the ongoing terror attacks, devastating the lives of many Israelis, including the family of our friend Judi Felber whose son, Netanel, was shot by a terrorist and continues to fight for his life while we continue to pray.
There is no shortage of pain and sorrow, but as Jews, we always look back and try to find the seeds of inspiration that propel us forward.
Building upon our great successes of the first half of 2018, we at Israel Forever focused our efforts on adding new content and activities and polished presentation for optimal user engagement. We've been sharing fresh stories, insightful perspectives, new activities and a wide range of ways to make a difference to our initiatives. We expanded our Israel connection holiday, historical and creative resources for anyone teaching Israel - in a classroom, a community, or among colleagues.

We have filled our pages with great arts and crafts ideas for parents and educators alike. Our new series of ShabbatTalks activities and ShabbatTzion resources aim to touch on new themes of forgiveness, living beyond terror, better understanding of Jewish history and Jewish rights - every week a new opportunity to deepen your engagement, and your connection.
We continuously aim to tackle current issues through the personal perspective - intersectionality, Jewish identity and leadership. We emphasize the reality of Israel without the political strife that divides us. To that end, we prepared resources to help clarify what is happening in Gaza - in a non-political, factual and yet thought provoking manner.

We addressed the issue of the Jewish Nation State and the Nation State Law passed by the Israeli government this past year, encouraging people to cut through the confusion and break down the barriers to understanding the value and implications of this historical moment. Our full and condensed resources were used by the AZM as well as other organizations and communities in the United States and around the world, and we hope by more and more people looking to exercise their pride and knowledge as Virtual Citizens of Israel.
We hosted two webinars on standing up for Jewish rights throughout history and how we are all feeling the effects of Jew-hatred and what we can do about it, including an exclusive reading of a rarely-known piece written by Elie Wiesel in 1974, Why I am Afraid. If you missed either of the webinars you are welcome to view BALFOUR IN THE NEXT CENTURY: JEWISH RIGHTS TO THE JEWISH HOMELAND or FROM KRISTALLNACHT TO TODAY: WITNESSING JEW HATRED REAR ITS UGLY HEAD AND WHAT WE CAN DO ABOUT IT at your convenience.
Our very special Healing Arts, created at our annual Good Deeds Day program with the Jewish Federation of Greater Washington, were shared with the community of Sdot Negev, to lift their spirits and show them that Jews around the world care deeply about the trauma they suffer living in the shadow of terror day after day. They sent us this incredible thank you video that demonstrates just how much it matters when we show Israelis we care.
Israel Forever was proud to partner with the American Jewish Committee for #ShowUpForShabbat, a global solidarity effort in the aftermath of the Pittsburgh attack that left eleven dead. It was our honor to provide for the community copies of Living Beyond Terrorism: Israeli stories of hope and healing that are filled with inspiration from the most painful of circumstances.
From growing interest in our global Virtual Citizen of Israel initiative, to increased efforts to share innovative resources such as our one of a kind Israel-inspired Chanukah Coloring Book, we are seeing strong growth in our global communal engagement, partnerships and collaborations. Our content and recipes are continuously shared by our partner organizations such as Yad Ezra v'Shulamith, Mercaz, the American Zionist Movement, the Israeli American Council, schools in Florida, Maryland, Pennsylvania, New Jersey and New England, and congregations such as the House of Israel in California and Congregation Adereth El in New York City who served as the host of our Balfour exhibition as we celebrated 101 years of international recognition of Jewish sovereignty and rights. It is great to see how our relationships continue to grow year after year and we look forward to welcoming more partners in 2019!
While changes in the algorithms of social media platforms have negatively impacted the reach of all users and organizations, Israel Forever has successfully extended our presence on the different platforms and grown our audience. For example, on Twitter our audience has grown from 19.8K followers in May to the current 20.7K followers. Please follow Israel Forever on any or all of our channels: Instagram, Facebook, Twitter, Google+, Pinterest and YouTube.
Israel Forever is officially reaching new audiences in Europe and Latin America! I was a presenter at the World Zionist Organization Department of Zionist Activities iVision conference on the topic of Jewish identity politics, and on lessons of leadership from the past for the sake of the future. In addition, I was a special guest of the Embassy of Israel in Romania as a presenter for the West University of Timisoara academic conference "Holocaust in Romania: Local Responsibility and the Politics of Memory."

This groundbreaking conference brought together academics from throughout Europe and the world to explore elements of the history specific to the Romanian, Moldovan and Transylvanian regions. My presentation focused on Elie Wiesel: The Memory of Memory in Romania - lessons that all academics could take with them: that our academic research must be channeled toward public awareness so that the lessons of history do not continue to be disregarded or distorted through misplaced parallels and diminishment. It was inspiring to be able to make this presentation in the region of Elie's own childhood and to recall his memories of Sighet through the lens of what it is we seek to retain from a world that has since disappeared.
As special guest to the Timisoara Jewish communal Shabbat dinner, along with the visiting group from Nowy Zod, one of three last remaining Jewish communities in Serbia, I emphasized the deep and meaningful bond we have within each and every one of us that is a link in the chain of Jewish history. We look forward to working with the community in Timisoara, Budapest, Warsaw, Bulgaria, and Germany connected with through these conferences, to continue to inspire a vibrant manner of engagement with Israel that defies conventional educational, political or geographic boundaries.
As our winter interns from Latin America work towards meaningful projects and campaigns to bring Israel Forever to Argentina and Brazil, the messages of our interns and fans are still part of the strongest testament we can share with you in the hopes that you will be inspired to share them with others in your community.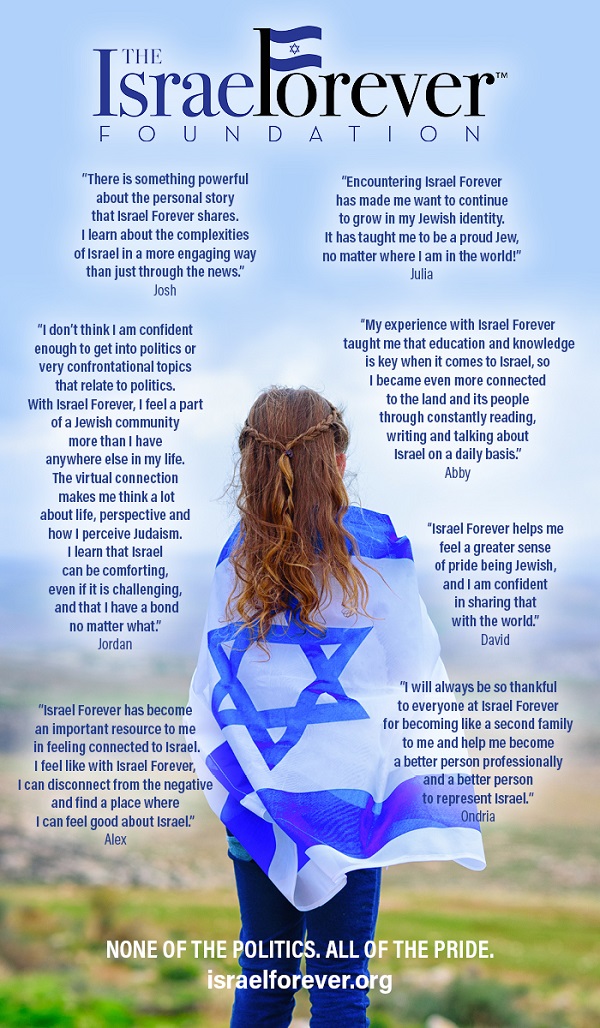 We are honored to receive the support of donors near and far. We are proud to welcome those new donors who have given generously this season. We could not do the work we do without your help, providing free resources to every family, community, classroom that wants to take their Israel connection in a new direction.
We are grateful for every contribution that helps us propel forward the Israel-inspired identity, pride and connection that we so desperately need at this time. You are helping give Virtual Citizens of Israel everywhere what they need to feel good, to learn differently, to teach uniquely, to weave Israel into the fabric of your life, and to deepen and mobilize their sense of belonging to Am Yisrael.
We have built this global community over the span of 8 years. Each one of you are instrumental in helping us reach more people. As with any small grassroots organization, awareness of Israel Forever relies on YOU, our members, readers, followers and friends, who can share, spread the word and introduce new educators, leaders, activists, parents and grandparents that are looking for unique stories, activities, programs and discussions to share, engage with through the world of Israel Forever - THE home for personalized Israel engagement.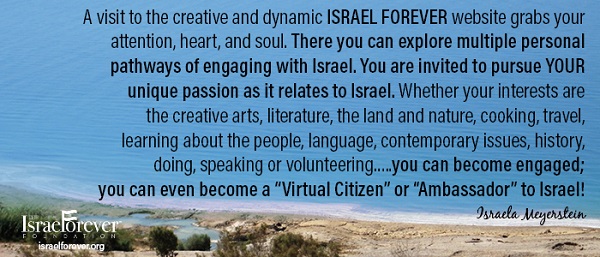 The wider we spread the message of the added value Israel Forever brings to the world, the more of an impact we can have in improving Jewish literacy about our history, heritage and homeland by celebrating and strengthening, deepening and mobilizing, inspiring and fulfilling the personal connection to Israel - today, and for generations to come.
MAKE A DIFFERENCE TODAY!
---
Recommended for you: