Local Flavors, Global Community:The Galileat Experience
By Susan Eisenstein
I confess. I have never really liked to cook, even though I can, to a degree. I do not like reading multiple steps in a recipe. I rather make it up, or add ingredients as I go, freehand. As I started to see more recipes emerge from the amazing Cooking Israel effort of Israel Forever, the freshness of Israeli dishes, the flavors, the colors, the spices, the melting pot of Israeli cuisine gave me new inspiration on how to bring the tastes of the land into our lives at home in the Diaspora.
Whether you follow the recipe to the teaspoon or have some fun using what you have on hand, just like in the early days of the State, I found myself getting excited about what to cook for dinner. Since getting started with experimenting with Cooking Israel recipes, I have found Israeli influences being integrated into my own cooking as often as I can. Using vegetables and spice blends has become my secret to creating dishes that fill my home and heart with the things that I so love about eating in Israel.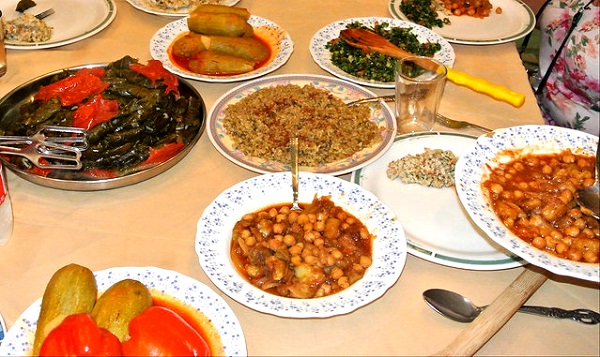 Za'atar and nuts as a snack. Yemenite Hawaij, which is a blend of turmeric, black pepper, onion, cumin, cardamon, and cloves. Ethiopian Berbere and the Middle Eastern Baharat - both are a combination of nutmeg, black pepper, coriander seeds, cumin seed, cloves, cinnamon, cardamon and paprika, but use different proportions and produce such different flavors it is astounding. These spice blends help me make vegetables, meats and salad more interesting and absolutely healthier than the heavy dressings and sauces that are so popular in Western foods.
It occurred to me, as a teacher, that today's young people are excited when offered the chance to experience different aspects of Israel, and what better way could I capitalize on that than through FOOD? After trying our hand at some of the staples of the Israeli diet - like the famous salad, pita, falafel and other simple dishes some were already familiar with, I went searching for other ways to capitalize on this new way of inspiring a connection to our heritage and diversity through the way we approach what we eat.
When Paul Nirens, owner and founder of GalilEat, agreed to Skype with my class, it was near midnight in Israel and Paul was coming from a dinner party. He even brought some of the dishes from the dinner party to show us as the students asked him all sorts of questions about his unique brand of Israeli cuisine.
I first found out about GalilEat because of my personal love of the Galil. The North is definitely one of my favorite places in Israel. Green mountains, trees, the Hula Valley and Nature Reserve, bird watching, spring flowers and even snow in the winter. The Galil also has a very diverse population which gives people important context to learn about Israel's multicultural communities of Jewish, Druze, Arab, Muslim, Christian, Bahai and others.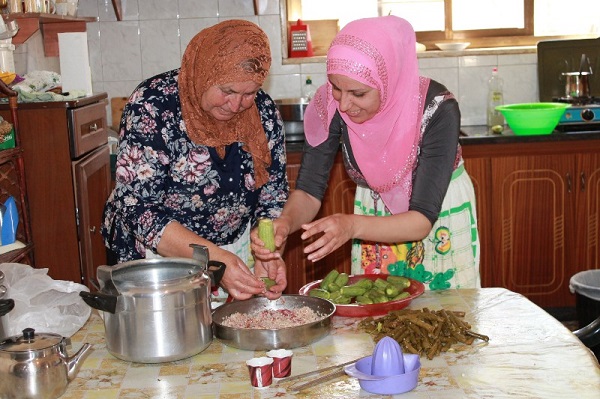 Paul shared that some of his earliest memories are of his father, owner/chef in the family restaurant, spending his one day off a week in the kitchen, trying out new and wonderful experiments on his family. Upon moving to Israel, after a short stint working in kibbutz agriculture, he followed in his father's footsteps and trained at one of Israel's leading culinary schools, managed commercial kitchens, and worked as a chef in a vegetarian restaurant. His passion grew alongside the uniqueness of the Galilean culinary traditions.
The Galilee is often described as Israel's Provence or Tuscany. Each region has its own particular characteristics, but certainly our region is rural, green and top quality, locally grown agricultural produce. Olives, olive oil, fruit and vegetables have been staples since biblical days. In addition, we have seen in the last few years an abundance of small boutique craftspeople, producing gourmet products ranging from cheeses, meats, breads and conserves, to beers, wines and liqueurs. Inspired by the environment and cultures around his, he opened his own business wholesaling locally crafted gourmet foods and showing others what the Galilee has to offer.
Paul has since lived in the rural Galilee region for over 30 years and has been able to cultivate relationships with many people living in the area. These relationships allow him to offer true cultural and culinary experiences, working on co-operation with those that live close by. He believes that in order to eat properly in the Galilee, to encounter the real-life atmosphere of Israel's green North, it has be done with and by locals. Galileat grassroots cultural experiences include Galilean cooking workshops, home hospitality and meals in a local Galilean village, traditional Jewish cooking experiences, market tours, full-day culinary tours and more.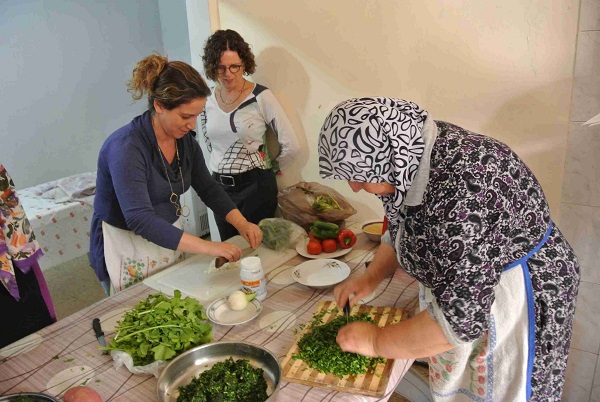 SO WHAT MAKES A GALILEAT RECIPE ORIGINAL?
Most of the ingredients used in the recipes that I learned about from Paul were "baladi", meaning "exclusive" in Hebrew or "of the land" in Arabic. The food is grown in a traditional way and would be considered unsellable in most Western countries, as the produce might not be pretty and perfect. Galileat shows a slice of Israel that is authentic, interesting, and different than most tourists see, and now you can enjoy some of Paul's original recipes thanks to Israel Forever!
Finding Israel through food is not hard to do these days, with more Israeli chefs becoming known and sharing and mouth-watering recipes and pictures. Bringing this inspiration into the kitchen takes just a touch of courage and a willingness to try new things. A little something that can spark conversation with friends or family, or inspire kids in the kitchen while deepening their love for Israel at the same time.
We can't all find Galilean ingredients around the world, but we can most certainly enjoy dreaming about being in that stunning landscape with its rich history and diversity!
CHECK OUT PAUL'S ORIGINAL GALILEAT RECIPES: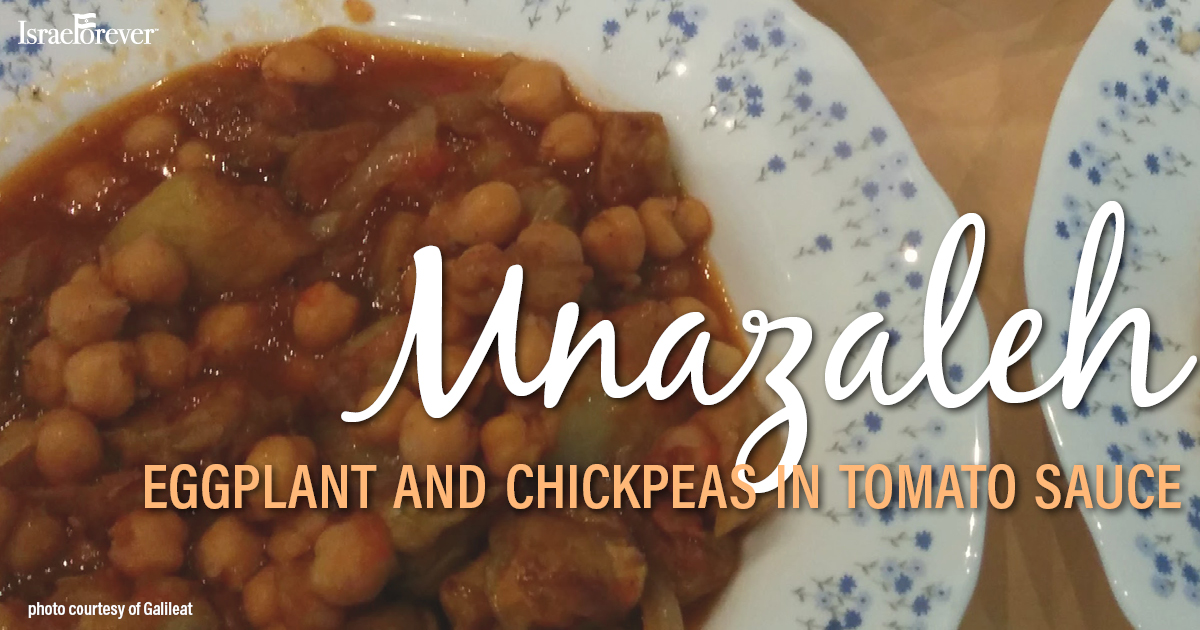 Mnazaleh - eggplant and chickpeas in tomato sauce: This hearty vegan eggplant and chickpea stew captures the flavor of the Galil region. Tori Avey, a popular kosher cooking and lifestyle blogger heavily inspired by her husband's Sephardic Israeli background, couldn't stop raving about her experience learning and eating this Druze dish on a Galileat tour.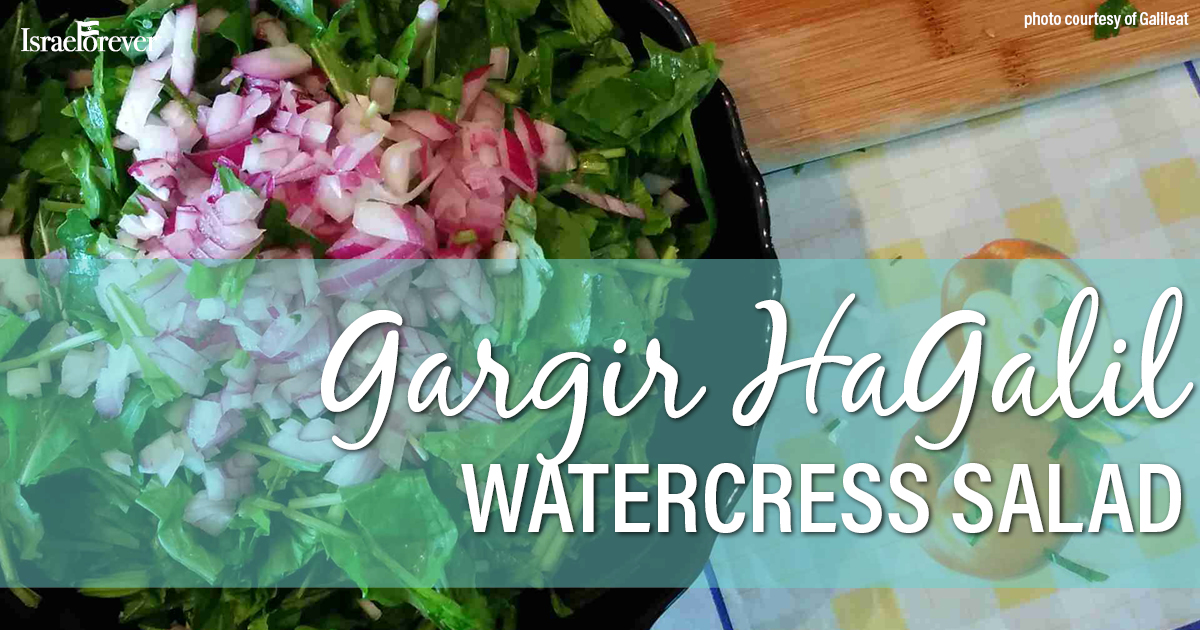 Gargir HaGalil Watercress Salad: Watercress, or Gargir Nahalim,"grain of the river" in Hebrew, is a native plant to northern Israel, particularly the Galil region. Enjoy this Galilee green in the following salad from Galileat.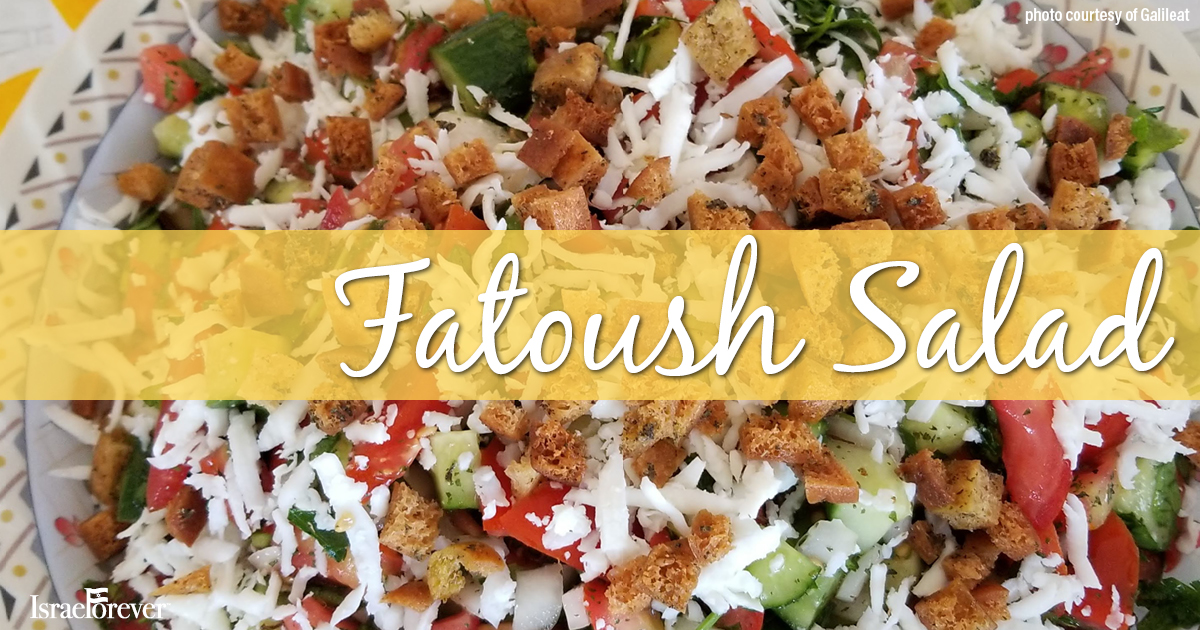 Fatoush salad: Fatoush comes from the Arabic word for "crush". This bread-based spin on what is often considered the "classic" Israeli salad has Lebanese origins. Enjoy the tastes of the Galil in this delicious salad from Galileat.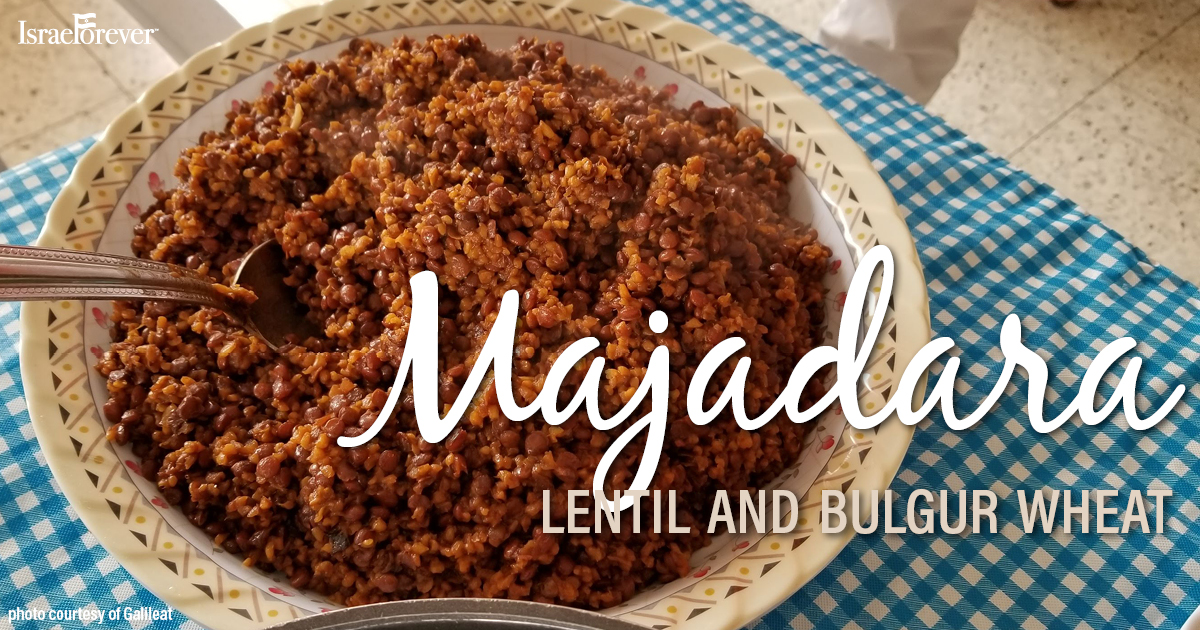 Majadara is a popular dish in Sephardic and other Middle Eastern cultures. The mix of lentils and grain is believed to have its origins in the Biblical story of Jacob, Esau, and the exchange of the birthright for a bowl of lentils. It is still a major part of the diet in some Galil communities to this day.
---
Recommended for you:
---
Bring Tastes of Israel into your Kitchen!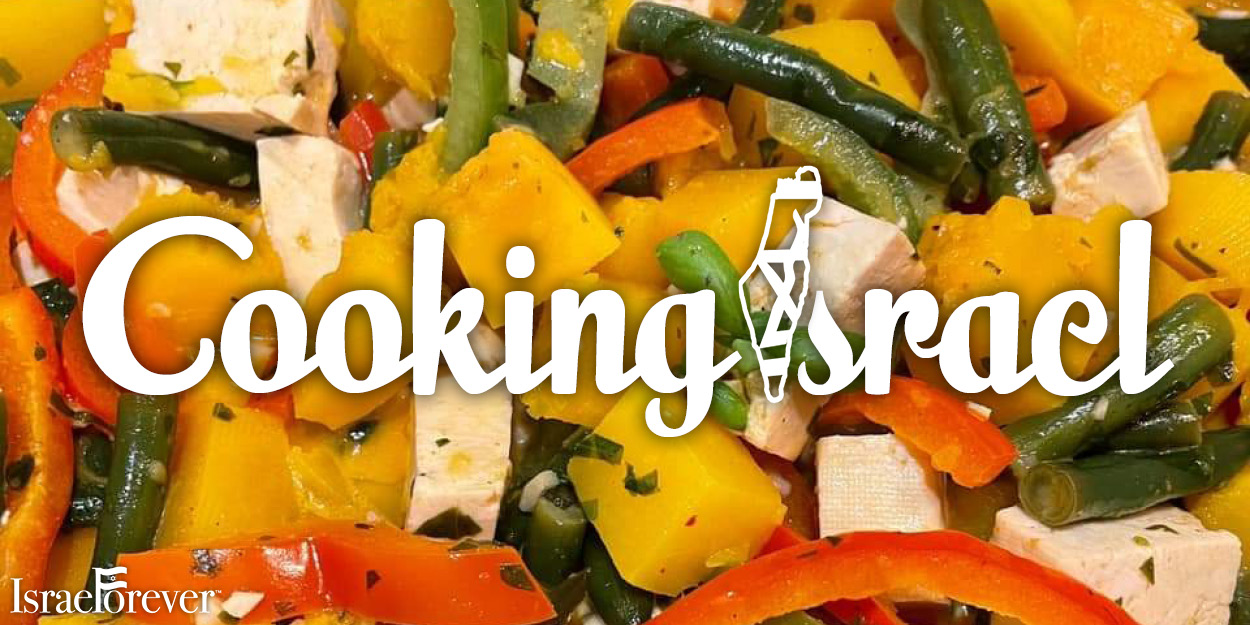 Let the aromas and flavors remind you of Israel, forever in your heart and in your life!

Click HERE to download our FREE Cooking Israel Cookbook.
About the Author
Susan Eisenstein is a long time Jewish educator, passionate about creating special innovative activities for her students. A Bonim B'yachad Teaching Fellow, JNF Ambassador and a graduate of the Melton School for Jewish Studies, Susan has two Master's degrees and a Doctorate in Education from Columbia University. In addition to her involvement with Israel Forever and Stand With Us, Susan is a mentor to adult students for Project Inspire and Aish Academy and is a published author in professional journals for music and music therapy. Her passion is in Judaic studies and the Hebrew language and involving every student in a meaningful adventure of learning: "Israel is my heart and soul and my dream is to help Israel and Israelis in any way that I can."