Ethiopian Lentil Spread and Dabo
"Honey has always been an important part of Rosh Hashanah for a sweet year. But there were no apples in Ethiopia. Traditionally at Rosh Hashanah we would slaughter a sheep. Roast it on a spit and eat the meat with honey." Simon Griver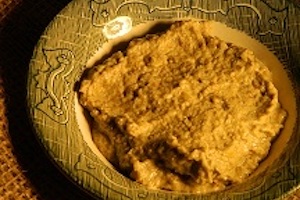 Recipe courtesy of Ayala Yasu, an Ethiopian-Israeli, who in 1984 flew to Israel with Operation Moses.
Ingredients:
2 cups red lentils
3 tablespoons oil
2 medium onions, diced into cubes
2 cloves garlic, crushed
1 cup boiling water
1 teaspoon hot paprika
1 ½ tablespoons sweet paprika
1 tablespoon chicken soup
Salt to taste
Turmeric to taste (optional)

Preparation:
Cook the lentils until soft. Saute onions and garlic in oil in a separate pan until soft. Add hot and sweet paprika and water; simmer on low flame for five minutes Add cooked lentils and chicken soup. Add salt and turmeric to taste.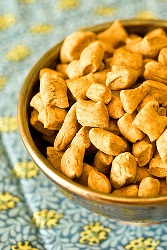 Dabo Ingredients:
2 ¼ pounds of flour
2 tablespoons yeast
½ teaspoon salt
3 ½ cups lukewarm water

Preparation:
Combine all ingredients and allow dough to rise about 1 ½ hours. Place dough in a large pan and bake until golden. Cook on the other side until golden.